Prince Harry has arrived in Afghanistan to fly attack helicopters in the fight against the Taliban.
The 27-year-old Army captain, who spent 10 weeks on the front line in 2007/08, will be in the hot seat of a fearsome Apache during his four-month deployment.
Having arrived in the war-torn country in the early hours under the cover of darkness, Harry spent his first morning at Camp Bastion checking over the state-of-the-art Army aircraft he has likened to a "robot". Prince Charles is "immensely proud of his son", St James's Palace said
This time the Ministry of Defence has chosen to confirm this deployment after a threat assessment concluded that acknowledging his presence in Afghanistan would not put the royal or his colleagues at further risk.
Harry looked relaxed, if slightly tired, and gave a thumbs-up after a long journey on a standard troop flight from RAF Brize Norton in Oxfordshire.
The royal climbed up to peer into the cockpit of one of the helicopters he will fly and crouched down to inspect its weapons. He wore his combat uniform and was joined on the Apache flightline by another unnamed member of the 100-strong unit he is posted to, 662 Squadron, 3 Regiment Army Air Corps.
After about 10 days of acclimatisation and training to hone his skills, Captain Harry Wales - as he is known in the Army - will be set to go out on operations in his role as co-pilot gunner.
The Queen and Prince of Wales were both fully briefed about his return to operations and Charles is "immensely proud of his son", St James's Palace said.
Harry has made no secret of his desire to return to active service, and has spent the past three years changing the direction of his military career from an armoured reconnaissance troop leader to an Army helicopter pilot in order to be posted back to Afghanistan. Prince Harry is on his second tour of duty
A St James's Palace spokesman said: "He's approached the deployment with a range of emotions like any other soldier and feels both pride and anticipation as he deploys for a job he's trained for, for so long. Prince Harry, like any soldier, considers it a great honour to represent his country in Her Majesty's armed forces wherever it chooses to deploy him."
The third in line to the throne will now be knuckling down to the serious business of fighting the Taliban after reportedly getting a dressing-down by a senior officer for his well-publicised nude frolic.
Harry was a second lieutenant with his regiment, the Household Cavalry, for his first deployment to Afghanistan and worked as a forward air controller co-ordinating air strikes on Taliban positions.
During his current posting he could carry out similar tasks to those he co-ordinated in 2007/08. That tour of duty was abruptly ended when foreign media broke a news blackout on reporting details of his service.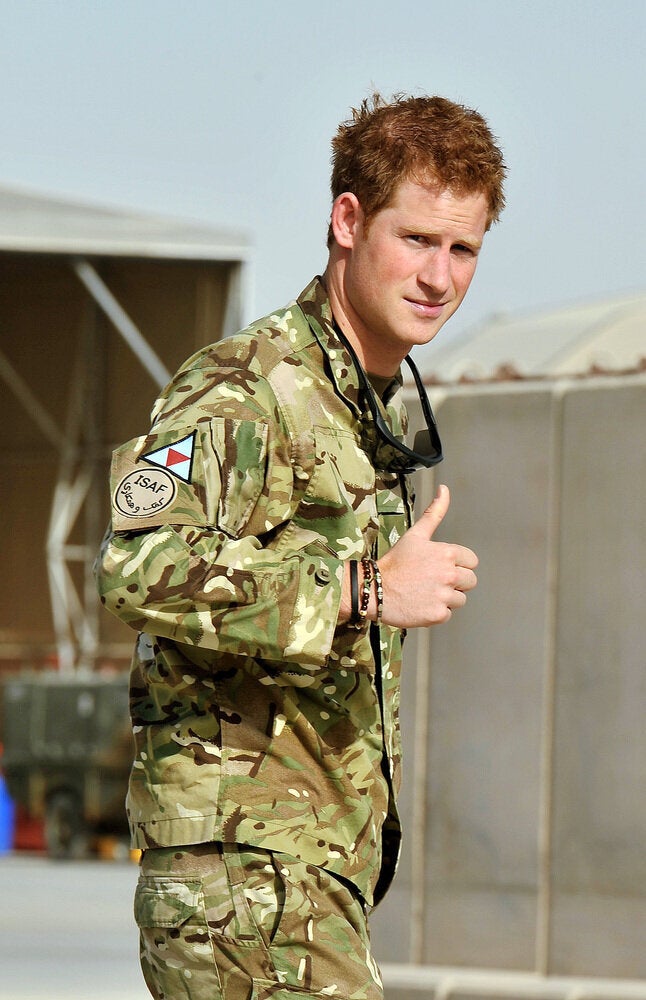 Related