Ofqual has come under fire for its treatment of students who have been affected by the rise in GCSE grade boundaries, but its chief insisted curbing grade inflation came first.
Glenys Stacey, chief regulator of Ofqual, was grilled by MPs on Tuesday over the controversial exam results which left hundreds of pupils "devastated".
One headteacher described her pupils' futures as being "destroyed", while another dubbed the fiasco a "great injustice".
Stacey admitted communication over GCSE grades boundaries "could have been better" but remained adamant the summer exams had been properly marked.
Ofqual was accused of failing to maintain standards after GCSE results in the summer were significantly lower than expected. It has now emerged some students who took the same exams in January were given higher grades than if they had sat the papers in July.
The examinations watchdog has said the decision to raise grade boundaries was in order to curb grade inflation. On Tuesday, Stacey went to great lengths to reiterate this point, causing MPs, union leaders and headteachers alike to ask whether Ofqual was putting statistics before students.
Pat Glass, MP for North West Durham, asked Stacey if she would consider re-grading students who sat the July paper, to which the Ofqual chief replied: "Results would be inflated."
"We would be put in an uncomfortable position," Stacey continued. "I understand the effect and disappointment but the [summer] grades were the right grades."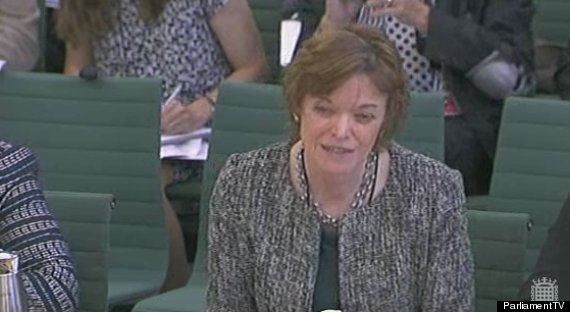 Glenys Stacey, chief regulator of Ofqual, was grilled by MPs on Tuesday
Kenny Fredericks, head of George Green's school in London, told the committee: "Ofqual have focused too much on statistical arguments, not the impact on pupils. Their initial report was complacent."
Stacey denied the watchdog could have anticipated the "generous grading" which Ofqual claims took place in January.
"We did see risks in the English Suite and we had identified them and were looking at qualifications. We did put in place a scrutiny programme and focused on English. We didn't see anything that meant we needed to take further action."
Headteachers attacked Ofqual for not giving any warning on the grade boundary changes.
Fredericks added: "AQA gave us no feedback on grade boundary changes. We did not see this coming."
Northampton School for Boys head Mike Griffiths echoed her sentiments, saying: "My head of English offered to resign. The teachers were in tears on results day. They had no idea."
General secretary of the National Association of Headteachers also emphasised the lack of warning schools were given about the grade boundary changes, adding "offering a re-sit [to students] is not enough".
Stacey then admitted: "One of the lessons we have learnt is communications should have been better.
"It's not clear that enough was done in getting enough out when it became apparent there were these problems. We are in an uncomfortable position."
Griffiths continued to argue:
"Students have had their hopes and aspirations shattered. Ofqual has failed to maintain standards. My English team is distraught, devastated and confused, and the students feel the same. There has been a 17% decline in C grades; 36 boys have not got a C grade who in previous years would have."
Amanda Spielman, who chairs Ofqual, told the committee she was surprised how high the grade predictions were at some schools.
"You might have thought that this year, in the first year of a completely different exam, schools would be a bit more cautious about their predictions and have brought them down a bit," she said.
"I'm not saying it is the schools' fault, I'm saying school expectations were in a very different place. We would have expected in the face of a new specification to see schools being more cautious and what we actually saw was that school expectations for Cs went up by 2%."
Ofqual will have been made all the more "uncomfortable" by letters obtained by the TES which revealed a direction was issued to Edexcel to raise the grade boundaries.
"We knew looking at the January results there would be a 6-7% grade inflation rate in the summer exams," Stacey told the panel of MPs.
Stacey insisted no other directions were issued to exam boards but while she was facing MPs, Ofqual released a statement saying OCR had also been issued a direction over "clerical errors".
"Ofqual has ordered OCR to take action after failures within its management procedures resulted in an unacceptable number of clerical errors during the marking of summer 2011 exam papers," the statement read.
"OCR is now legally required to take all necessary steps to make sure qualification results are accurate. This includes reviewing its procedures, practices and the senior team's accountabilities."
The statement quotes Stacey as saying OCR's errors were "not acceptable".
"We required OCR to make improvements to its procedures in time for the next series of exams in January this year, and to ensure these remained in place for this summer's exams. These were independently verified and were found to be working. The Direction we have issued today will ensure that the way the organisation works in future makes it less likely such a significant problem such as clerical errors could go un-noticed and then not be property rectified."
The Welsh Government has since recommended the country's main exam board WJEC re-award the English Language examination following the row over the grade boundaries, while Downing Street released a statement reiterated the government would not get involved.
"Obviously, we sympathise with students who didn't get the grades they needed.
"But we have an independent regulator. It is the job of that regulator to make sure standards are maintained over time and it is not the job of ministers to intervene in that."
SEE ALSO: