Ofqual boss Glenys Stacey admitted on Tuesday she would have forced one of England's biggest exam boards to alter its GCSE English boundaries to avoid grade inflation.
The regulator has the power to direct grade boundary changes and would have done so if Edexcel had not revised them, she suggested.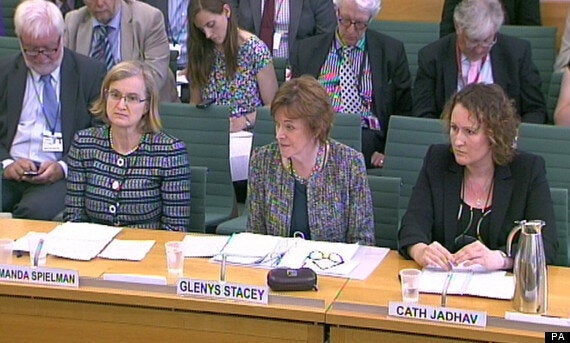 Glenys Stacey (centre), flanked by other Ofqual representatives, faced MPs on Tuesday
The disclosure came as new figures showed that at least 143 secondary schools are set to fall below the Government's floor target for pupils achieving at least five Cs including English and maths as a result of the GCSE English fiasco - putting them at risk of being considered failing.
Leaked letters published today showed that Ofqual pressurised Edexcel to alter its GCSE English grade boundaries just two weeks before results were published last month.
Appearing before the Commons education select committee, Stacey was asked what Ofqual would have done if Edexcel had stuck to its first response to the regulator, and insisted that its proposed grade boundaries were fair.
"If they had done so, then the legislation provides that the regulator can direct grade boundary changes," Stacey said.
Pushed on whether Ofqual would have done this, she added: "I think we would have done, yes."
A spokesperson for Edexcel said: "We understand that the ongoing debate is unsettling to students and we want to give reassurance that we have done everything in our power to represent their interests.
"We felt that the original grade boundary changes suggested by Ofqual, based on prediction data and the decisions of other awarding organisations, would not enable us to adequately reflect student work in their grades.
"After extensive discussion with Ofqual we agreed a June grade boundary which took account of our concerns to recognise the candidate performance our examiners observed. This reported results slightly above original Ofqual predictions.
"We are therefore satisfied that the final grade boundary we set for June enabled us to fairly reward learners as well as uphold the standard of the GCSE."
The leaked correspondence, seen by the Times Educational Supplement (TES) show that Ofqual wrote to Edexcel on August 7 amid concerns that there would be a rise in C grades, calling on them to act quickly to produce results that were closer to predictions for the subject.
The board responded a day later, saying it believed its proposed grade awards were "fair" and there was no justification for further changes.
It added that Ofqual still wanted an alteration, that the board could move the minimum requirement for a C grade for one of the English units up to 65 marks out of 96 - 10 marks higher than in January when it stood at 55.
Ofqual replied on August 9, with a letter from Opposs that stated Edexcel is obliged to ensure its results are consistent with other awarding bodies, whose results were close enough to predictions.
Alex Cunningham, Labour MP for Stockton North, asked Stacey why Edexcel had changed its mind, saying "was it the fact that you adopted a strong-arm tactic to tell them 'you must ensure that these grades are downgraded'?"
Stacey replied: "What changed was, that we knew, looking at that, that there would be a six or seven per cent increase, grade inflation, that we did not think to be right or justifiable.
"We therefore wrote to Edexcel pointing out that they needed to bring the qualification in appropriately. They reflected on that and it's quite right and proper that they should have done.
"The way the system is set up, in the legislation that we all operate to, requires us to put that challenge back to them. It then requires them to look at whether they can justify their outcomes and that's what they did."