In what has been described as a major chapter in the history of England, archaeologists searching for the body of King Richard III have found an adult male skeleton with spinal deformities in the precise location that he is thought to have been buried.
Speaking at a press conference, Richard Taylor, Director of Corporate Affairs at the University of Leicester said that there was "strong circumstantial evidence" that they had found the body of Richard III, but it would take 12 weeks of laboratory analysis to confirm it.
In a statement he said that the skeleton, which was in good condition, "appears to have suffered significant peri-mortem trauma to the skull which appears consistent with an injury received in battle - a bladed implement appears to have cleaved part of the rear of the skull". Rich pickings: Have archaeologists found Richard III?
He explained that the skeleton also had "spinal abnormalities" and "would have had severe scoliosis, which is a form of spinal curvature".
He said: "This would have made his right shoulder appear visibly higher than the left shoulder. This is consistent with contemporary accounts of Richard's appearance. The skeleton does not have kyphosis – a different form of spinal curvature. The skeleton was not a hunchback. There appears to be no evidence of a withered arm."
In addition, a barbed metal arrowhead was found between vertebrae of the skeleton's upper back.
He added: "The skeleton was found in the Choir area that was reported to be the burial place of Richard III in historical records."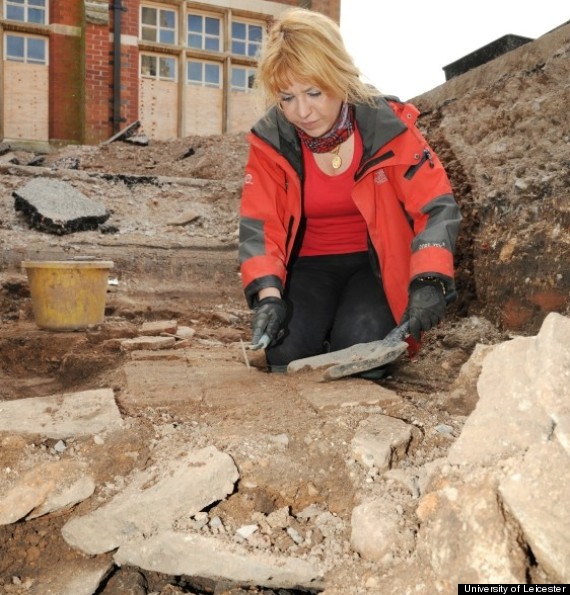 Tomb raider: Karen Ladniuk of the Richard III Society at the dig site
A female skeleton was also found in the same area.
He went on to explain that the bodies are now in an undisclosed location where they will be rigorously examined.
Although Mr Taylor could not confirm that they'd found the Yorkist monarch, he nevertheless exclaimed that "we have all been witness to a powerful historic story unfolded before our eyes" and that "the search has resembled something out of a Dan Brown novel with its twists and turns".
Peter Soulsby, Leicester City Mayor, said: "This is a major chapter in the country's history."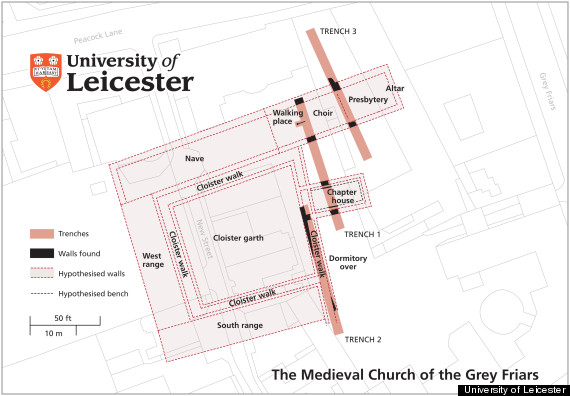 A map showing the dig site trenches. The adult skeleton was found in the Choir
Dr Phil Stone, Chairman of the Richard III Society, said: "This has been a momentous undertaking, and one that needed to happen. It represents a huge leap forward in terms of learning more about Richard III and his period, which is the Society's main goal. We hope it will encourage an upsurge of interest in this seriously undervalued king."
Richard III was the last English king to be killed in battle and his demise in 1485 was followed by the reigns of the infamous Tudor kings Henry VII and Henry VIII