More than 200 members of a Muslim pressure group held a demonstration outside the US Embassy in London on Sunday in protest at the film mocking the prophet Muhammad. The demonstration follows a similar protest outside the embassy on Friday afternoon.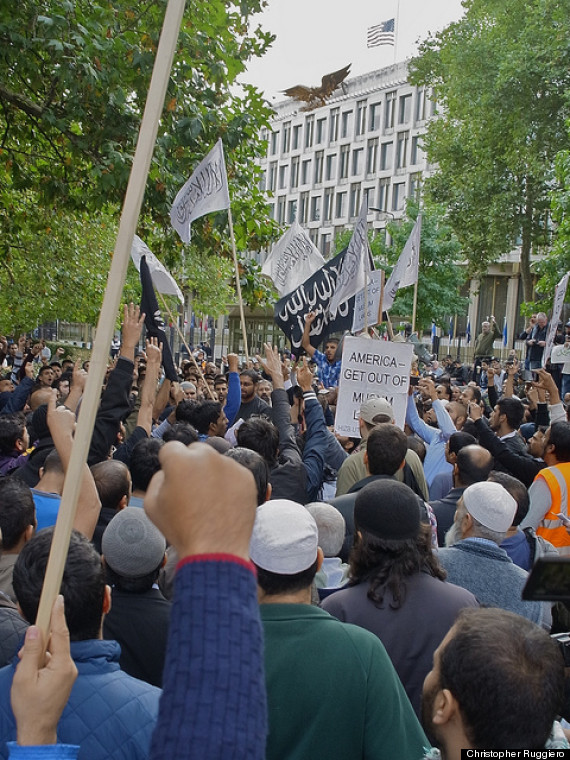 The second protest took place on Sunday outside the embassy
The film, entitled Innocence of Muslims, which shows the Islamic prophet as a homosexual and womaniser, has sparked scenes of violence around the world, including Libya where the US ambassador, Chris Steven, was killed alongside three embassy officials on Wednesday - the anniversary of 9/11.
No arrests were made at Sunday's demonstration, organised by the extremist group Hizb ut-Tahrir, which campaigns for the introduction of Sharia in the UK. No flags were burned.
A statement released by Hizb ut-Tahrir on Saturday, said: "The demonstration will be condemning in the strongest possible terms any and all insults against Islam and the symbols of our religion; especially those against the greatest man sent to mankind the Prophet Mohammad, peace be upon him."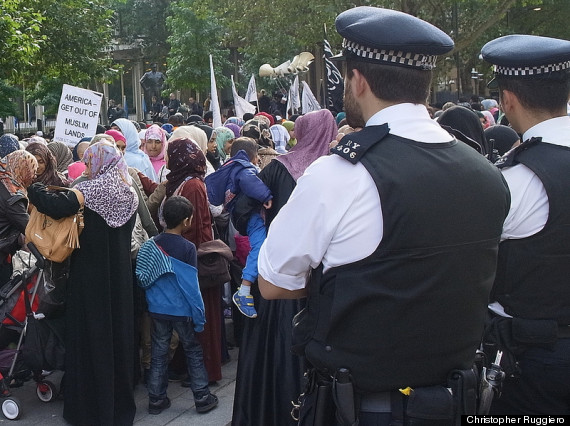 No arrests were made at the demonstration
On Sunday, the leader of the English Defence League (EDL) said that the group are planning to screen the anti-Islamic film as part of a demonstration in Walthamstow scheduled for the end of October.
Tweeting on Sunday, Tommy Robinson, also known as Stephen Yaxley-Lennon, posted:
The planned Walthamstow demonstration follows an aborted march through the London borough at the start of September, which was abandoned when a counter protest organised by Unite Against Fascism forced police to end the EDL protest.
A mooted EDL demonstration to counter a protests organised by former members of the banned Islam4UK, which took place outside the American Embassy in London on Friday failed to materialise.
Violent protests have continued over the weekend, with clashes witnessed in Sudan, Tunisia and Lebanon, many focusing on the Western embassies.
There were violent scenes in Sydney, Australia on Saturday, when 200 protesters clashed with police outside the US embassy.
According to the Sydney Morning Herald, the Australian chapter of the Hizb ut-Tahrir has denied any involvement in the riot, however refused to condemn the actions of the violent demonstrators.
SEE ALSO
Hizb ut-Tahrir Embassy Protest
Hizb ut-Tahrir Embassy Protest