A group of semi-naked women have urged David Cameron to do more to secure justice for rape victims.
The campaigners called on the prime minister to ensure the criminal justice system takes rape and sexual assault cases more seriously.
Hundreds of women are expected to take part in Saturday's SlutWalk in London to raise awareness of the issue.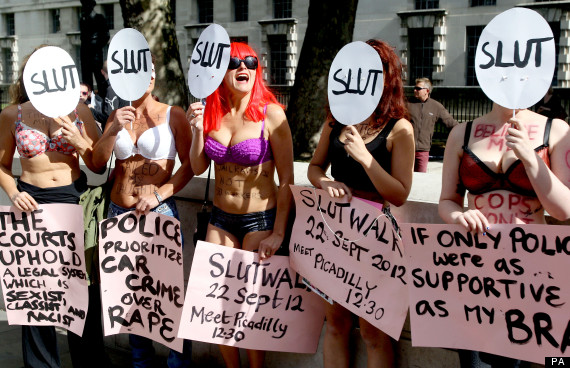 The women took their tops off covered their faces with signs saying 'slut'
Ahead of Saturday's event around a dozen protesters braved the chilly autumnal weather in their underwear to protest opposite Downing Street to send a message to Cameron.
Student Anastasia Richardson, 18, said: "All the failings of the police and courts, they are only allowed to happen because there is not proper supervision at the top, because rape is not being made a priority within the justice system."
She claimed that only 7% of reported rapes resulted in a successful prosecution and added: "Rape is essentially legal in this country. That is very much his (Mr Cameron's) responsibility to stop."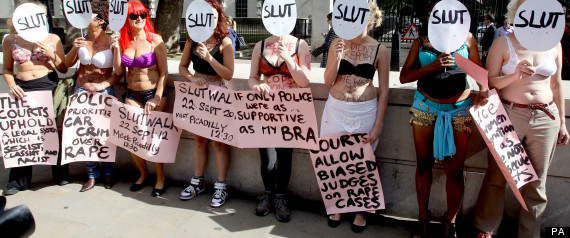 Students joining the march claimed 'rape is essentially legal in this country'
Richardson, from London, added: "We want the police and courts to make rape more of a priority so more rapists get convicted.
"We want the police to take more care when they investigate cases because what we are seeing at the moment is evidence is lost, police don't look at CCTV footage for example before it's destroyed."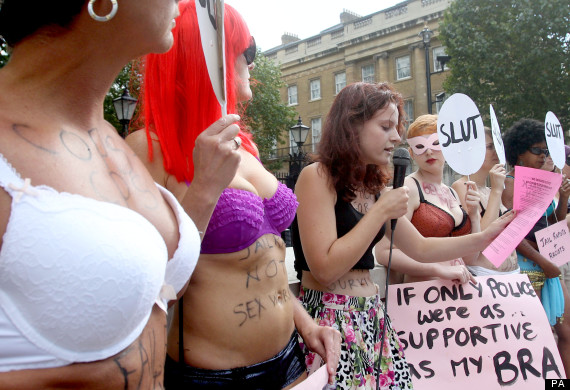 David Cameron has been urged to do more to secure justice for rape victims
She also urged the Crown Prosecution Service to take more cases to court.
The SlutWalk movement began in 2011, after a Toronto policeman caused an outcry by telling a group of students that women should not dress provocatively in order to avoid being sexually assaulted.
Thousands of women have since joined protests and marches in countries including Canada, the United States and Britain.