Apple has released its latest iPhone to waiting crowds around the world - including one on top of London's O2 Arena.
The new device, which is taller and lighter than the previous version, has proven a hit with customers despite widespread criticism of its new Maps application.
More than two million of the phones were pre-ordered in 24 hours when the phone was made available online last week, and across the UK big lines formed outside Apple Stores and mobile phone retailers.
In London the Apple Store in Covent Garden reported the largest crowds it had ever seen for the launch of the device.
In total 1,297 people queued up at the Regent Street store, according to text message Q&A site 63336.
That beats Apple's previous London record of 778 for the launch of the iPhone 4S.
But according to a poll of the people in the queue, more than two-thirds said they wished Apple had stuck to Google's mapping solution rather than developing its own app.
Meanwhile on top of the O2 Arena, the mobile phone network held a publicity stunt which saw iPhone fans leaping for joy above London's skyline.
O2 created a 'pop-up' shop on top of the giant dome, and allowed some of its lucky customers to walk up and collect their devices (while attached to safety harnesses of course).
READ MORE: What's Inside An iPhone 5? (PICTURES)
Helen Squires, who was given the chance by O2 to buy the phone on top of the giant dome, said (according to a press release…):
"Being one of the first to get my hands on the new iPhone is one thing, being able to get it from the top of The O2 has been mind-blowing. I'm no stranger to queuing but I've never waited before in a line so high or with such a view. It's made the experience even more of an adventure."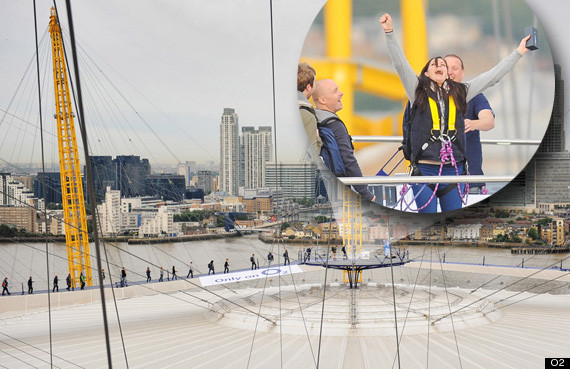 The new phone costs £529 for the 16GB unlocked version, up to £699 for the 64GB edition. It is available at a significant discount on contract, through only Orange and T-Mobile will be able to offer 4G LTE data once its sister network EE launches next month.