The Football Association has denied the situation between themselves and John Terry was "untenable" and his retirement from representing England has limited Roy Hodgson's choices in central defence.
Terry earned 78 caps for the Three Lions under four managers over the course of nine years but has departed the international scene as his personal hearing over using racist language during a Premier League match has begun at Wembley.
And the FA's general secretary Alex Horne spoke of how "disappointing" the Chelsea skipper's decision was.
"It's disappointing. I don't see how we made his position untenable," Horne insisted.
"It limits Roy Hodgson's choices. He has been playing well and done well for England. It was his decision and we respect that."
Regarding Terry's charge for using racist language during a football match, Horne admitted the long-winded process had perhaps been a strain on all concerned.
"It's something that happened in a match - it shouldn't be taking a year to resolve but we feel we're reaching a conclusion on that."
England manager Roy Hodgson thanked Terry for his service to England but could not hide his disappointment either.
"I am of course disappointed to lose a player of John's international experience and exceptional ability," Hodgson said.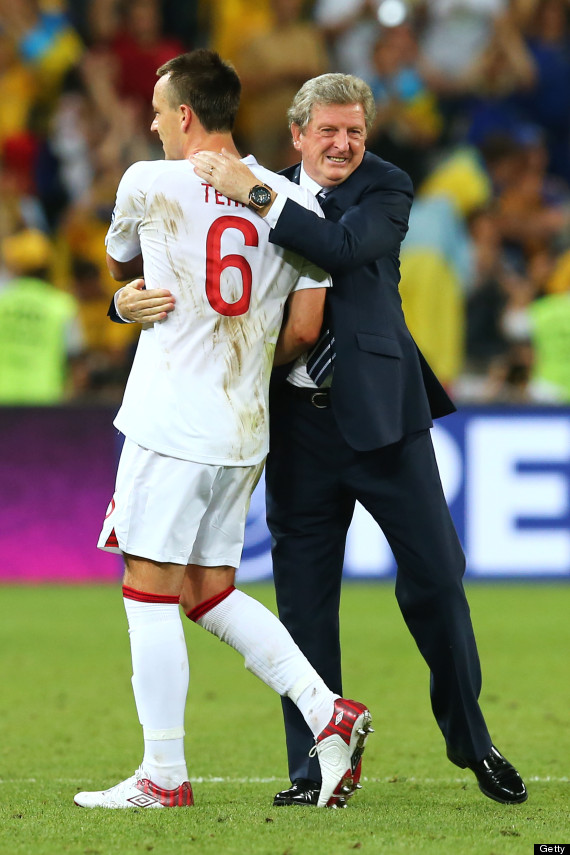 Hodgson embraces Terry after the Euro 2012 win against Ukraine
"I have enjoyed a good relationship with John during my time as England Manager and I reluctantly accept his decision. I can also confirm that he had the courtesy to call me prior to announcing his retirement from the England team."
Terry, who made his debut for England against Serbia & Montenegro in 2003, scored six times for his country and played at two European Championships and two World Cups.
He was appointed captain of the national side by Sven-Göran Eriksson's successor Steve McClaren in 2006 after David Beckham had resigned from the role.