Only one day after protests spilled into violence in Madrid, anti-austerity protestors in Greece have clashed with riot police, with tear gas and petrol bombs thrown by both parties.
In Athens, subsections of a larger anti-austerity protest have engaged with police, throwing missiles and petrol bombs, as the country went through its first general strike under the new government lead by Prime Minister Antonis Samaras.
Protestors angry at the country's deep austerity measures took to the streets in the capital, with riot police teams also on the streets to combat any disruptions.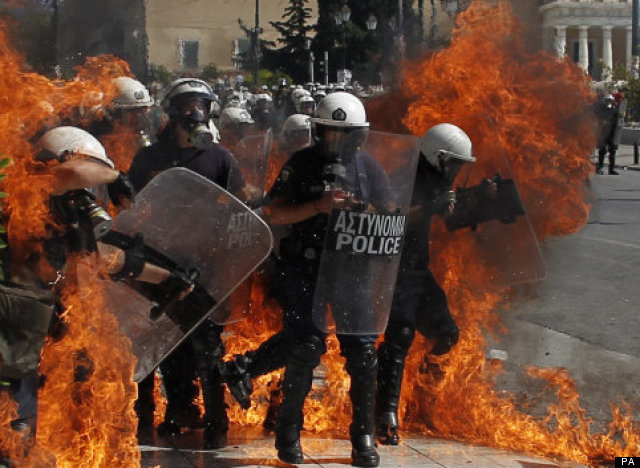 A fire bomb explodes among Greek police in Athens on Wednesday
Over 350,000 workers have been estimated to be on strike across the country on Wednesday.
In the video above, riot police clash with protestors by throwing tear gas canisters in the direction of the protestors which, according to the Guardian, police are meant to be banned from doing.
Away from the violent sectors of the protests, an estimated 70,000 Greeks marched on the parliament complex in Athens, demanding their government resist the EU and the IMF.
Despite a confrontational afternoon, the violence appeared to cool later in the afternoon.
In response to the clashes, more in Spain and market uncertainty based on the countries' financial struggles, stock markets across Europe slid.
London's FTSE 100 Index fell 1.5%, while the Cac 40 in France was 2% lower and Germany's Dax dropped 1.9% as eurozone crisis fears escalated.