The Crown Prosecution Service has been accused of a "horrifying" breach of data after it mistakenly released the names of nearly 300 people arrested at student protests, including 44 under-18s, to a member of the public.
The Register reported that the names of 299 people were released to a member of the public, who asked about costs and resources used in the police's costs during the student protests against tuition fees in 2010 and 2011.
The prosecutors now risk a £500,000 fine from the Information Commissioner after the data breach. The CPS released the names of people arrested during protests over tuition fees in 2010 and 2011
According to the website, 44 of those were under 18 and 116 had not been charged.
John, 24, who was arrested and acquitted, was surprised to find the CPS had mistakenly released his data. "If they're keeping this, what else are the keeping about me? I was worried and concerned for other people.
"My case finished several months ago and I was acquitted. I'm a law student at the moment so for my perspective keeping this data and not keeping it secure terrifies me. It's quite scary that they keep all of this and it's accessible by everybody."
Jennifer Hilliard, from the Defend the Right To Protest group told The Huffington Post UK she was "horrified" by the breach.
"I find it very disturbing that that information should be handed out so lightly," she said. "Under the Data Protection Act there's no such thing as a mistake. You have to protect data.
"This is a major breach, you're talking about 299 people's details being handed out. It opens up a whole load of questions around the CPS and how they manage data."
Following the breach, leading law firm Bindmans said they were "representing a number of clients whose personal information was wrongly disclosed by the CPS."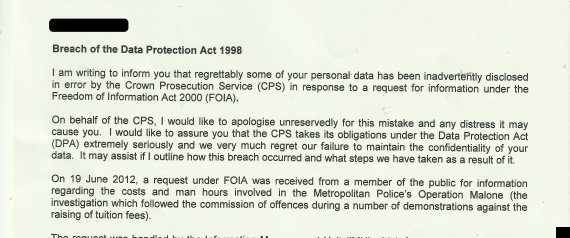 The letter that informs people their privacy has been breached
A spokesperson for the Information Commissioner told The Huffington Post UK they were looking into the case.
A CPS spokesperson said: "Since becoming aware of this breach on 13 September 2012, the CPS has written to and apologised to those whose details appeared on the document. The individual to whom the information was disclosed has also been contacted and advised that the information was provided in error and requested that it be destroyed.
The CPS Chief Operating Officer has commissioned a review of this incident and the systems and controls we have in place which failed on this occasion, to be conducted by a senior and experienced prosecutor from another CPS Division. The findings will be acted upon as a matter of priority to ensure that such an error does not recur."
BLOG: Time for the CPS to Rediscover its Inner Humanity?