The search for April Jones, the five-year-old missing in Machynlleth, Wales, has spread across social networks, with more than 10,000 people joining a dedicated page on Facebook and tweeting celebrities to get them to spread the world.
The search of the small town where April lives has meant most of Machynlleth's 2,000 residents have been involved in the physical search or spreading the word online.
Those joining the group are able to download a missing poster, featuring three photographs of the youngster, before sharing it on their profile. April Jones: She is believed to have been wearing this purple coat when she was abducted
One mother wrote: "It's every parent's worst nightmare."
Local petrol station worker Nerys Zjalic told ITV Daybreak that she had been drafted in to open the garage all night to assist with the search.
She said volunteers had flocked to the town to take part, adding: "One lady came in and she had come from Caernarfon, which is North Wales, so I suppose you are looking at 80-odd miles.
"She said 'I saw it on Facebook and I couldn't sleep, so I came down'."
Locals have been using Facebook to co-ordinate search parties from Machynlleth Leisure Centre, and further afield in Aberystwyth, late into the night on Monday and throughout the early hours of Tuesday.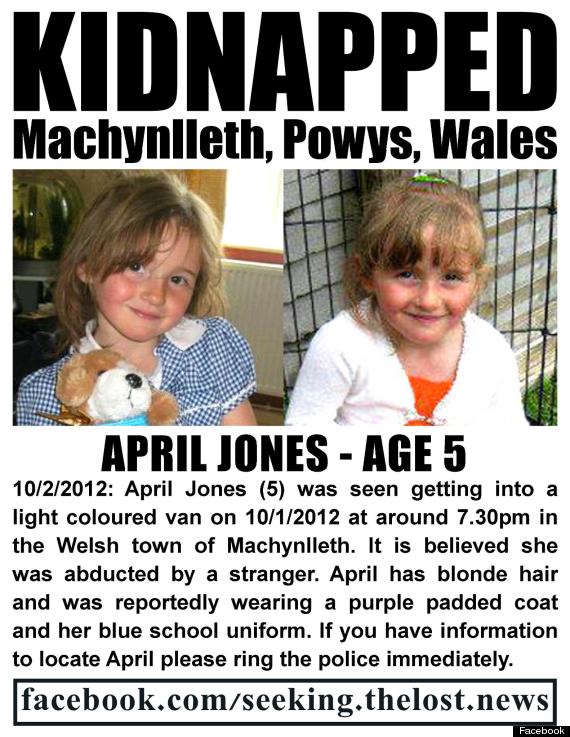 The poster that people can download to search for April
One posted in the group: "The last 8 hrs I have travelled from LLandod to Machynlleth and back, Newtown, Llangurig, Aberystwyth and back through Elan Valley.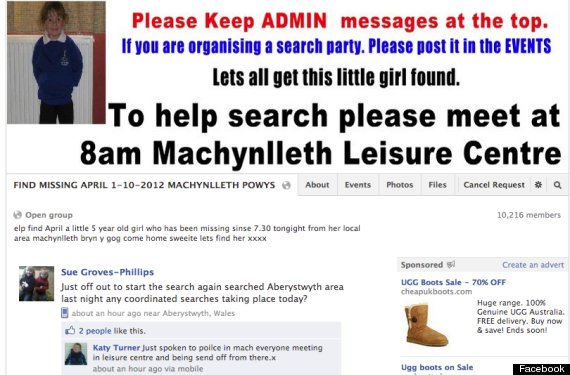 The Facebook group has been joined by more than 10,000 people
"I will get some sleep and try again later. I hope when I wake up they find the little angel. #devastated."
Another wrote: "I pray to god that they find this little girl it doesn't matter where we are from I have children and will do everything in my power to help you....and first light I shall do the same again."
Twitter users have been using the hashtag #FINDAPRIL and #FINDAPRILJONES to help spread the word.
Many celebrities have responded to the call to alert their many followers to the search for April.
SEE ALSO