Updated: 19:05, 2 October 2012 - Arrested man named
Updated: 18:45, 2 October 2012 - Arrested man known to family
Police have named the man arrested in connection with the abduction of April Jones.
He is Mark Bridger, a 46-year-old man from Machynletth who is known to the five-year-old's family.
He was arrested around 4pm on Tuesday afternnon after being caught on foot. His empty car was recovered soon after, police said on Tuesday evening. April Jones: She was wearing a purple coat when she disappeared
Forensic officers were already examining the vehicle and described it as "a vehicle he had use of which is of interest to the inquiry."
Speaking to the media, Superintendent Ian John, the local police commander, said: "We are hopeful that we can still find April safe and well."
Mr John also confirmed that police had made inquiries about registered sex offenders known to be living in the area.
Another line of inquiry saw officers examine whether April's abduction was linked to another attempted abduction in the Aberystwyth area around one week ago.
Officers said Bridger was arrested by a police patrol to the north of the mid Wales market town with the arrest coming in the hour before April's parents, Coral and Paul Jones, were due to make a public appeal for help at a police press conference in Aberystwyth.
"We are pursuing the inquiry as if she's still alive," Detective Bevan told Sky News.
"We knew he was in the area and he has a vehicle similar to the one April was seen getting into" he added.
April's godmother Mair Raftree, 41, from Aberystwyth, who has helped with the efforts to find her, said: "She's a quiet girl, and an important member of her family. She would never go with anybody and ask for a lift. We just want her back safely."
The arrest was made just north of a couple of miles outside the town. Police said the man was arrested on foot, and his vehicle was being searched. The arrest was made at around 4pm on Tuesday, just an hour before a press conference at which April's parents were due to speak.
April was last seen by another child getting into the driver's side of a grey van which drove off in the Mid Wales town of Machynlleth at about 7pm last night.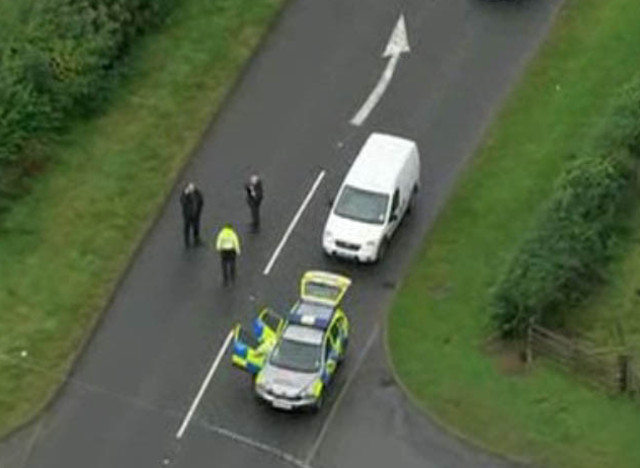 The Sky helicopters were able to catch a shot of the van believed to have been dumped by the man who was arrested in connection with missing April Jones
On Monday night police set up a roadblock around the town and were checking all the vehicles coming in and out of the area.
Hundreds of volunteers have been scouring the Welsh countryside looking for the five-year-old, who was out playing when she was abducted.
Police have split the search parties into 10 groups of 20 people to search different areas, led by search-and-rescue experts.
Bevan said the force would be combing through CCTV, both municipal and private, to find clues about the abduction of the five-year-old.
The abduction of a five-year-old girl last night is "every family's worst nightmare", Bevan said. "It is a very difficult time for them and we have specialist advisors with them." Children's toys discarded in the estate near where April Jones lives, Machynlleth
He said specialist advisors from across the country were helping police with the investigations. Two helicopters have been deployed to search the area.
Charlie Hedges, manager for missing, abducted and kidnapped children at the Child Exploitation and Online Protection Centre (Ceop), said he was called at 11pm on Monday for help on the case.
"There are the challenges of how you interview a child to get the right information, and with the time of day. You can't interview them through the night."
SEE ALSO