April Jones, a five-year-old girl seen getting into a light-coloured van after playing outside her home, has been missing since Monday night and police believe she has been abducted.
Police and "hundreds" of local residents have spent the night searching for April Jones who was last seen getting into the van which drove off in the mid Wales town of Machynlleth Monday evening.
Dyfed-Powys Police said they are becoming "increasingly concerned" for the missing youngster's safety and have deployed a large number of officers and specialist teams to investigate the disappearance. April Jones: She was out playing with friends when witnesses saw her getting into a van
Dyfed Powys Police said on Tuesday that April was wearing a purple knee-length coat with grey fur around the hood, a white polo shirt and black trousers.
A spokeswoman said: "Her abduction took place around 7pm in the Bryn Y Gog estate in Machynlleth. It was witnessed by another young child when April was seen getting into a grey or light-coloured van, or van-sized vehicle.
"While the details of what happened are vague at the current time, it appears the suspect left the scene and drove off with April.
"At the time of her disappearance, April was wearing a purple knee-length coat with grey fur around the hood, her school white polo top and black trousers.
"Many police officers and specialist teams have worked through the night, with extensive searches taking place, and many lines of inquiry are being pursued."
SEE ALSO
Detective Superintendent Reg Bevan of Dyfed-Powys Police told Sky News that because the initial account of April's abduction came from children, police were involved in a "delicate and lengthy process" to get the best information.
He said: "Hopefully, later this morning I'll have some more details around the vehicle, specific details, and we are pursuing a number of lines of inquiry around that vehicle, where it may or may not be at this moment in time."
Hundreds of local residents in the small market town are said to have joined the hunt for April on Monday with many continuing their efforts overnight.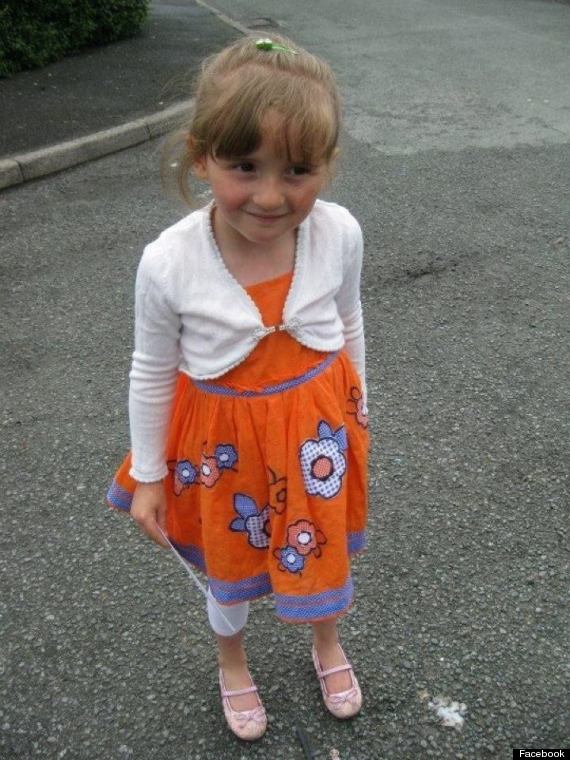 April Jones: Police are 'increasingly concerned' for the youngster's welfare
Up to 200 people congregated at Machynlleth Leisure Centre as news of the apparent abduction broke to help in the search for the missing girl, according to reports.
Local restaurant owner Razul Islam said a large majority of the town, which has a population of 2,000, was out in force searching for the five-year-old.
"There are hundreds of people out looking for her," Mr Islam told Sky News last night.
"It is such a small town and nearly everyone is out looking for her - I'm shocked that it has happened in a town like this."
Local petrol station owner Nerys Zjalic said she reopened her garage last night to help with the search.
Ms Zjalic, who runs Reads Garage, told ITV Wales: "My friend called to ask if we would open so people can get petrol to help in the search. Locals are out in full force searching for her."
Speaking to BBC Radio 5 Live she said that some people had returned home overnight, but were planning to reconvene their search at 6.30am.
"It just shows the community spirit of the town and how people get together in a crisis to do anything they can to help," she added. The small town in north Wales, where five-year-old April Jones is missing
Ms Zjalic, who knows the missing girl's family, said people had been coming from far and wide to help with the search.
"It's unbelievable - you just don't think that something like that would happen in a small town like Machynlleth.
"Nothing will be the same again - this is a small little market town and you think children are quite safe but this shows us it's not the case."
She continued: "People just can't believe such a thing has happened, the whole town is devastated and in shock."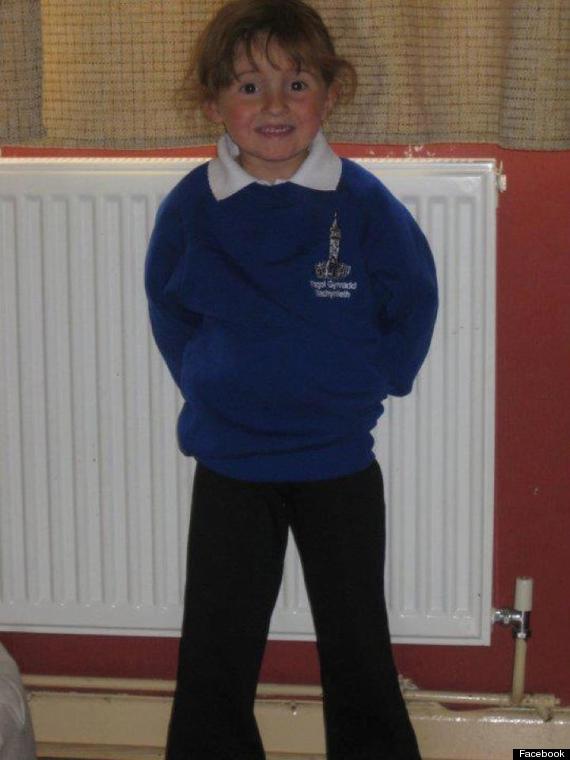 April Jones: Locals have been searching throughout the night, putting posters around the town
Police released three pictures of brown-haired April and urged anyone with information about the youngster's disappearance to come forward.
Locals have also put up posters of April around the town as part of their search efforts.
Chris Dudley, who works at the Skinners Arms on Penrallt Street, said the pub was empty last night with many of the locals joining the search.
"All the locals are looking for her in this area - the cemeteries, the golf field, playing field, everywhere you can think of," Mr Dudley said.
"Police are still looking."
Mr Dudley said police officers were "everywhere" and they were also searching cars.
Inspector Kevin Davies from Dyfed-Powys Police said "every angle" of the investigation was being covered.
He told the BBC that police dog teams were involved in the operation and that cars in and out of the town were being stopped and searched by officers.
A family liaison officer is also keeping the "devastated" relatives of missing April informed of any developments, Mr Davies added.
Machynlleth is situated in the Dyfi Valley and sits on the southern outskirts of Snowdonia National Park.
Search volunteer Anwen Morris said locals had searched an area with a 30 mile radius overnight using quad bikes and off-road vehicles.
"The most important thing here is to get this little girl home," she told Sky News. Hundreds of people have searched a 30-mile radius of where the child was abducted
County Councillor Michael Williams also joined in the search efforts.
He told BBC Radio 5Live: "People were co-ordinated by the police and as well as searching the town they went out into forested areas of the valley and wooded areas and out into hamlets and byroads."
Speaking about April's relatives he added: "They are such a lovely, caring family and they are devastated.
"The community is shocked and stunned over what's happened."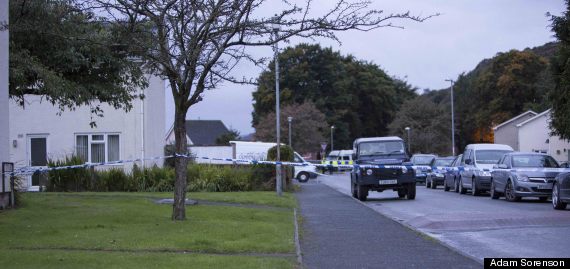 Police have cordoned off areas of Machynlleth where April lives
A number of volunteers were congregating at the town's leisure centre this morning to continue the hunt, with maps of the area and pictures of April being handed to those offering their services.
Anwen Morris, a family friend who is taking part in the effort to find April, told Sky News that everyone in Machynlleth is pulling together to help with the search.
She said: "It is such a strong community that we have here, the amount of support we have had overnight has been unbelievable, but the thing is we need this light now, we need these people here now to help us search in daylight and hopefully find her."
Ms Morris encouraged those who want to help to head to Machynlleth's Bro Ddyfi leisure centre, where co-ordinators are giving out maps and search routes.