On first reflection, street art from the mean streets of LA or London and a sleepy port town in Norway doesn't sound like a match made in heaven.
But wander around Stavanger for a few hours, where for over a decade giant murals have been left behind by luminaries like Ron English, Blek Le Rat and Swoon to fade into the fabric of an otherwise clean and quaint suburbia, and you soon realise that the contrast is precisely why Nuart Festival works so well.
Set beside toy town wooden houses on quiet sloping streets with passing audiences of affluent families and friendly locals on bicycles, the artworks can be viewed on their own merit, unshackled from the inner city urban decay still used to dismiss graffiti as a mere expression of rebellion and criminality.
In this peaceful corner of the world, old school heroes and rising stars unite to make an irresistible case for why their art should finally be judged first and foremost for its vision, skill and execution.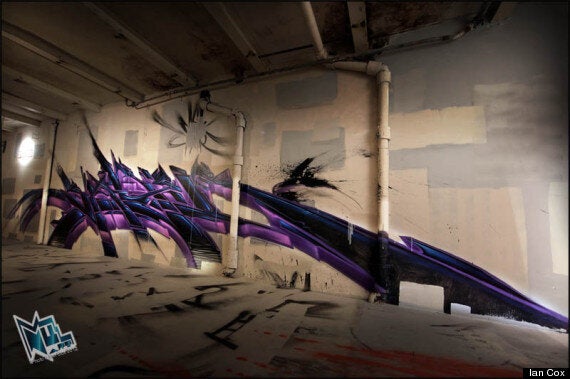 Street art like this can be found all over Stavanger
One of the biggest celebrations of international street and urban art in the world, Nuart is made up of artist talks, panel debates and workshops that take place throughout September, before climaxing over a final weekend when one venue turns over several giants tunnels for an urban transformation.
Tou Scene is a multi-levelled former brewery with many of its internal fixtures still intact, including giant pipes and vats that once held gallons of beer. Now the alcohol is served from the various bars that have been installed to service multiple live music spaces. Imagine if Shoreditch had its own university: Tou Scene would be the student's union.
But it's the tunnels that make it an ideal location to host the world's preeminent graffiti artists.
Seven separate arches carved 20-feet deep into the old building provide them with the perfect canvas for up to a week before opening, with many using the time and space not normally afforded to them to extraordinary affect.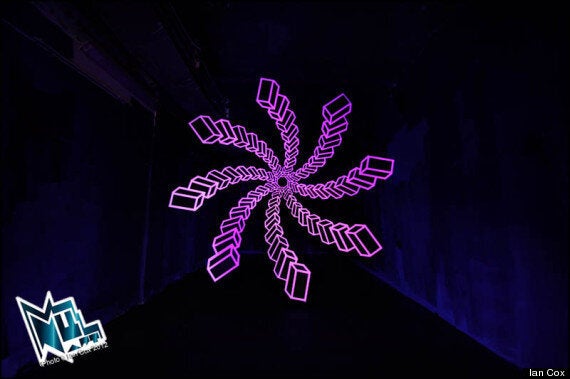 Artwork at Tou Scene by Aakash Nihalani
Aakash Nihalani is a New York-born artist who works predominately in tape to create luminous 3D shapes. Set against the street - and even more so against backdrops of nature, where he has also exhibited - Nihalani's art works by creating a simple but startling dimensional contrast. Confronted with a blank space, Nihalani opts to black out the walls and ceiling and construct a huge spiral of boxes that feels like it's sucking you in.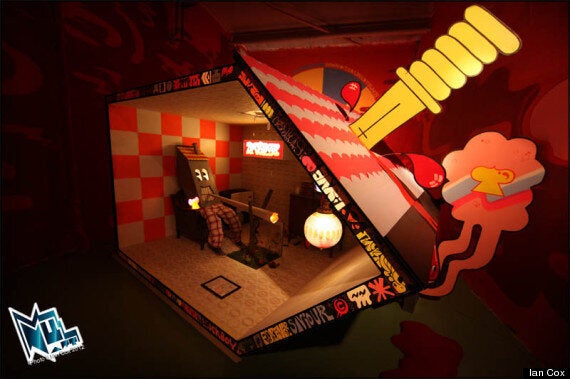 Sickboy exhibits at Nuart
Sickboy, a graduate from Bristol's vibrant graffiti scene whose profile has sky rocketed after appearing in Banksy's film Exit Through The Gift Shop, uses the end of his tunnel to install a 3D version of his trademark psychedelic smoking cartoon. It's a fresh approach the underlines why he's one of the most popular street artists in the UK.
Few of those exhibiting at Nuart come with a reputation as looming and legendary as Saber, who spent the earlier parts of his life risking life, limb and freedom tagging the streets of L.A. At Tou Scene he does what he does best, reproducing his famous tag in jagged swathes of blacks, blues and purples. Set alongside the work of his post-modern younger peers, with their sense of irony and abstract humour, Saber's wall feels like a smack to the jaw from the old school, a tribute to the punk ethics that seeded the movement.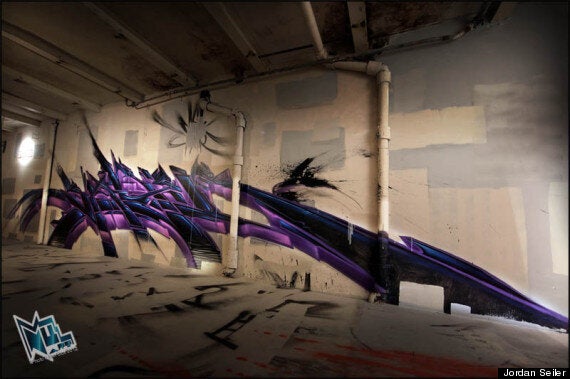 LA artist Saber leaves his mark
But best of all is a tunnel in which every square inch is covered to create an absorbing, pulsating otherworld that could be walked around for hours. It's the handiwork of not one artist but two, Raoul and David Perre, the twin brothers from Germany known as Hownosm.
Designed to evoke the passing of life into death - even the ceiling is painted to resemble the view from a lowering coffin - Hownosm's tunnel is mural of imagined memories, thick with surreal symbolism and small, surprising details. Raoul talked me through the process in which he and his brother start with their backs to one another, occasionally swapping to finish of each other's ideas with minimal discussion.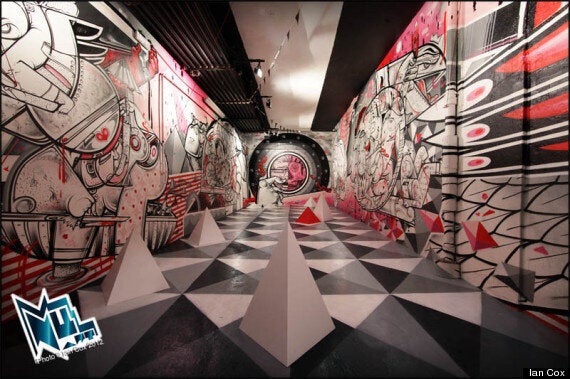 Hownosm's epic mural took four days to complete
With such variety on display, not all of the work created for Nuart is going to be to any one person's taste. I felt unmoved stood in a tunnel created by Shoe, the graffiti scene veteran who spent the 1980s tagging the streets of Amsterdam. Words sprayed with his trademark swirl closed in from above like a descending black cape - incredibly atmospheric for some - for me, feeling like the handiwork of a madman in a corny film (see pics in gallery below).
Even Ron English, one of the world's most widely recognised and respected street artists, felt a little disappointing, his subverted cartoon and advertising characters seeming to slouch half-heartedly on their wall.
But talk to the assembled crowds, and it's clear that these impressions are anything but a consensus. Every tunnel and artist has their devotees, a reminder that under the umbrella of 'street art' lies such a panoply of styles and ideas, grouping them together in this way is all but useless.
Wherever your personal tastes lie in the wildly experimental world of street art, what festivals like Nuart prove is that it's no longer the preserve of kids scratching around Brixton or the Bronx anymore than Renaissance paintings belong to the elite classes of Chelsea or the Upper East Side.
It's just art, free to be judged and enjoyed by anyone anywhere. Even a sleepy town in Norway.