Post –Traumatic Stress Disorder (PTSD), amputations and lifelong debilitating injuries: the ordeals some of our wounded soldiers face when recovering from action in the line of duty.
Director David Grindley has brought this pertinent subject into the public spotlight with a return of Jonathan Lewis' 1993 award-winning play Our Boys.
Five young soldiers, killing nothing but time in their hospital ward, have their lives of banter and bravado shaken with the arrival of a new patient – Potential Officer Menzies. Of an apparent different class and rank, the new addition highlights the soldiers' sense of injustice at their treatment and their labels of 'no longer fit for purpose'.
Our Boys boasts a star cast of familiar faces, including Arthur Darvill (Doctor Who), Laurence Fox (Colditz) and Matthew Lewis (Harry Potter).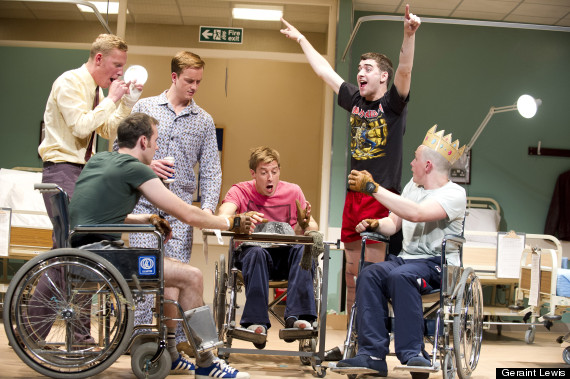 (l-r) Laurence Fox, Matthew Lewis, Jolyon Coy, Arthur Darvill, Cian Barry and Lewis Reeves.
Written from his own experiences of a short-lived army career, Lewis balances humour with a searingly honest account of the bleak prospects of soldiers no longer able to serve in the army.
"I got a real sense of anger from soldiers who felt like they'd … been thrown on the scrapheap," Lewis once explained in an interview with Bev Hislop, "It's as difficult now for a soldier to come forward and say he's suffering from PTSD as it was back [in 1984]."
Despite the sensitivity of the material, some of the performances in Our Boys feel under-rehearsed and chaotic. Laurence Fox (Joe) delivers his lines as though giving a script read-through, monotone and emotionless. Moments when Joe is on the edge of a breakdown, bottled fury reaching boiling point, are a missed opportunity.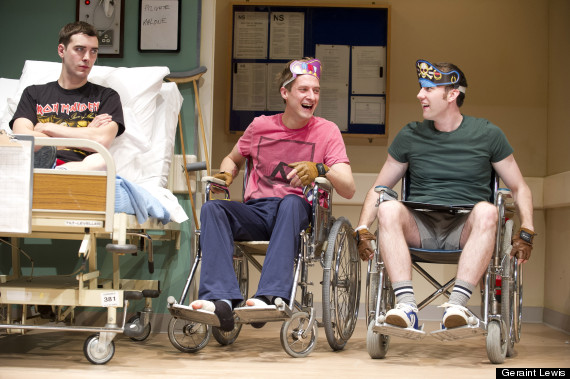 (l-r) Cian Barry, Arthur Darvill and Matthew Lewis.
However a standout performance comes from Lewis Reeves as Ian, a wheelchair bound soldier suffering a serious speech impediment. Despite his slurred words, Reeves triumphs in communicating the intense frustrations of a young man trapped in a disabled body.
Cian Barry and Arthur Darvill bring energy and angst to the stage in self-assured performances, giving us the edge that go with the complex emotions of their characters.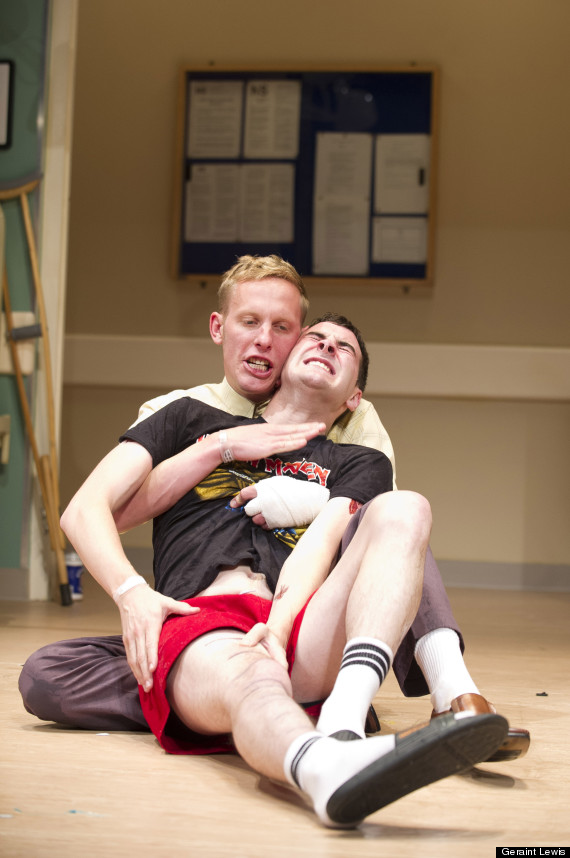 Laurence Fox and Cian Barry.
The issues broached by Our Boys are real and relevant. This is a production worth seeing, though more for its social commentary and educational value than for entertainment.
Our Boys is running at the Duchess Theatre, from 26 September 2012 for a 12 week season.
Watch the photo-shoot for Our Boys:
Take a look at all of HuffPost UK's theatre reviews:
HuffPost UK Theatre Reviews