Roy Hodgson has apologised after the England manager allegedly told fans on the tube Rio Ferdinand's international career "is over".
Hodgson, en route to watch Arsenal's Champions League tie with Olympiakos, was quizzed on the Manchester United defender's future with the Three Lions and astonishingly gave them a candid response.
"I very much doubt it. He hasn't played for England for quite a while. I have to say it is over for him and England," the Daily Mirror allege the 64-year-old to have said.
"It has got to be the end of the road. He is pushing 34 and hasn't played for England for a long, long time."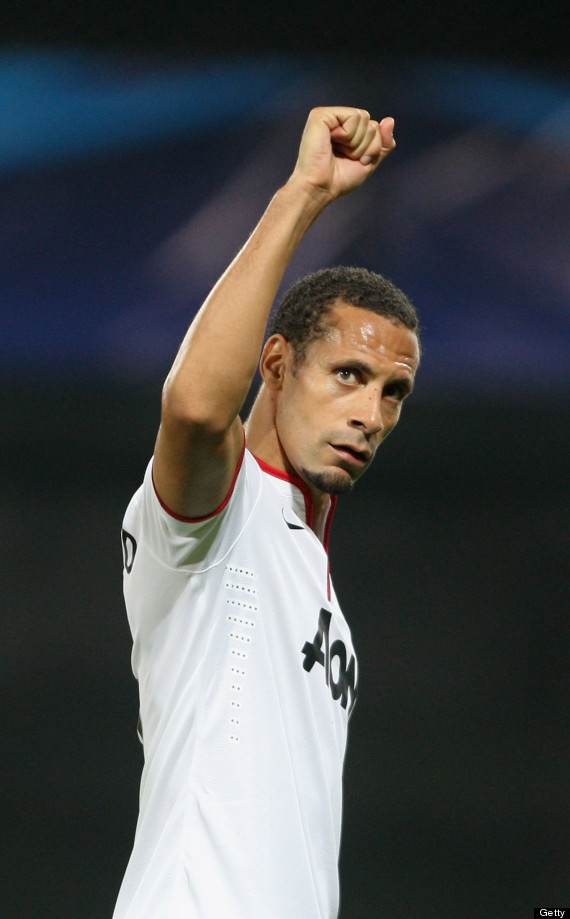 Ferdinand started for United in Romania on Tuesday
Today Hodgson was penitent when asked about the incident at a press conference held following the England squad announcement.
"I'm disappointed that a story like that came out and I apologise to him," the former West Brom boss said.
John Terry's retirement could have revived Ferdinand's chances of returning to the international fold, but the friction he now shares with Ashley Cole after endorsing a 'choc ice' tweet and his own strained relationship with Hodgson may have contributed to his probable omission.
Ferdinand has not played for his country since he partnered Terry in a 2-2 draw against Switzerland in June 2011.
Hodgson will almost certainly be questioned about his frankness on the London Underground's Jubilee Line when he attends a press conference to announce the England squad for the World Cup qualifiers against San Marino and Poland on Thursday.
When he dropped Ferdinand, 33, for the Euro 2012 squad, Hodgson cited "football reasons" and questioned Ferdinand's lack of game-time in an England shirt over the past two years.
But the selection of reserve Liverpool full-back Martin Kelly prompted Ferdinand to question "What reasons?" while the appointment of Steven Gerrard as captain was also contradicted Hodgson's rationale, since he had played just 118 minutes in 18 months prior to the pre-Euros friendlies.
Hodgson's assistant manager Gary Neville appeared to corroborate his sentiment on the tube when he all but confirmed Ferdinand's exile from the international set-up in his role as Sky Sports' chief pundit on the corporation's Monday Night Football show.
"Roy has said he is not going to take 34 or 35-year-old senior internationals with 70 or 80 caps, to sit in the stand. I've seen in previous squads how divisive that can be," the former England right-back revealed.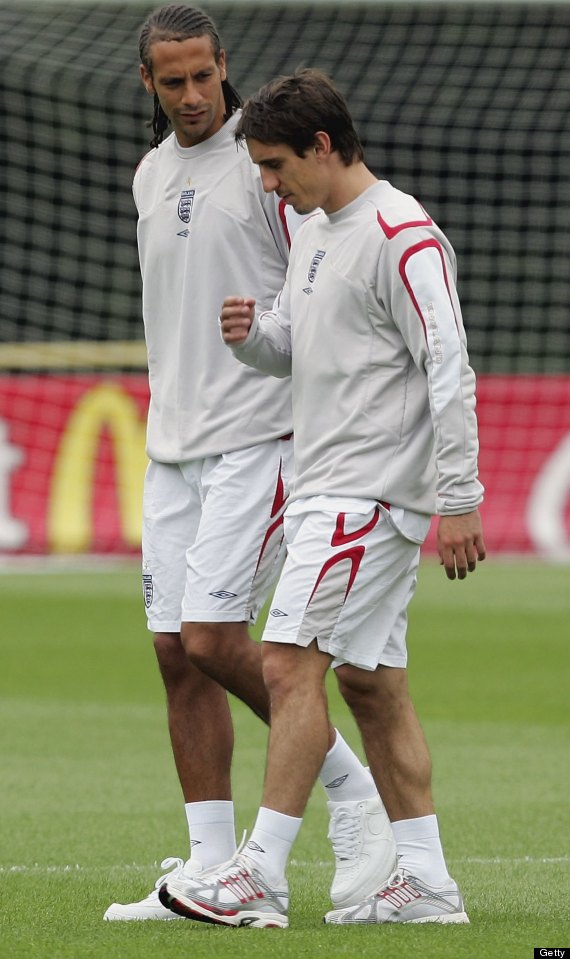 Ferdinand and Neville train at the 2006 World Cup
The caveat is that Frank Lampard and Gerrard will both be 34 and 36 at the 2014 World Cup in Brazil, and the duos' past performances at the biggest international football tournament are incomparable to Ferdinand's high standards set at the 2002 and 2006 World Cups.

Joleon Lescott, Phil Jagielka, Gary Cahill and Ryan Shawcross are the centre-backs certain who have been included by Hodgson in his next squad, yet only Jagielka is a regular at his current club.