Private prayers for April Jones were being said on Friday night as the desperate search for the schoolgirl continued.
Hope turned to despair as prime suspect Mark Bridger was arrested for murder and the prospect of finding April alive receded.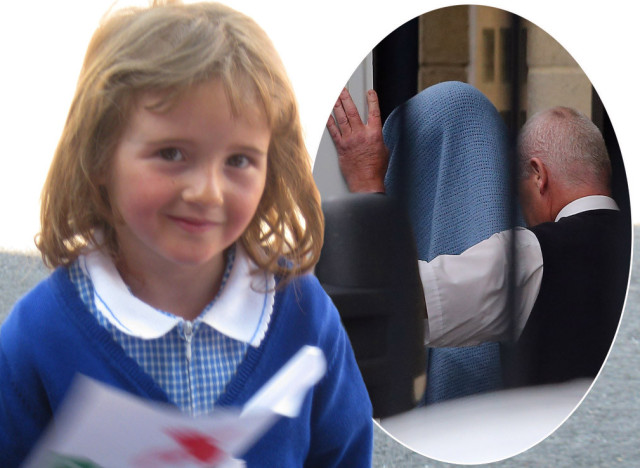 April's parents released more photos of their missing daughter as it was announced Mark Bridger can be held until Saturday
Officers were granted a further 24 hours to question the 46-year-old over the five-year-old's disappearance.
It means police have until 3.30pm on Saturday to quiz him further before they either have to charge or release him.
Officers said efforts to find April would not be scaled back as emergency services including the Coastguard, RNLI, RAF mountain rescue and 150 members of mountain rescue teams from across the UK continued the hunt.
Residents in the mid Wales market town of Machynlleth are still hopeful of finding the missing school alive, as many wore pink ribbons - the youngster's favourite colour - to symbolise hope. The hunt for April Jones is now a murder inquiry
The message was a demonstration of the close knit community's support for April's family, who have been devastated by her disappearance.
The 46-year-old suspect appeared at Aberystwyth Magistrates' Court where an application was made for a further warrant of detention, allowing police until Saturday afternoon before they will have to charge or release him.
The latest developments came as April's parents Paul, 43, and Coral, 40, issued three new photographs of their daughter.
Following his brief appearance before the town's magistrates, Bridger, a former leisure centre worker, was flanked by two officers as he was escorted back to Aberystwyth Police Station with a blue sheet over his head.
April was seen willingly getting into a 4x4-style vehicle on the Bryn-y-Gog estate in the town of Machynlleth at 7pm on Monday. Bridger was walking in the direction of Machynlleth when he was detained by police
The one-time lifeguard was picked up on a main road not far from the river Dyfi - with his blue Land Rover Discovery found at a nearby repair garage.
Detective Superintendent Reg Bevan told a press conference in Aberystwyth earlier on Friday: "Mark Bridger has been arrested on suspicion of the murder of April Jones.
Looking tired and drawn, and sporting a pink ribbon to show his support for April's family - he renewed an appeal for information regarding Mr Bridger's movements.
He said: "While this is a significant development in the investigation, I once again appeal to the public for information which may help us find April.
"We are looking to trace the movements of Mark Bridger between 6.30pm on Monday and 3.30pm on Tuesday and any sightings of him between these times.
"We also need information regarding the movements of the blue Land Rover Discovery, registration L503 MEP, between these times."
The close community of Machynlleth still harboured hope of finding her alive.
One pensioner, who did not want to be named, said: "If the power of positive thinking could bring her back she would be here now.
"Privately, I'm still praying that she will be found alive. We're waiting for a miracle in this town - but they sometimes do happen."
Teaching staff at April's primary school are also praying for a miracle.
Acting headteacher Gwenfair Glyn took the step of publicly announcing that the school has not given up hope.
Reacting to news that police are now treating April's disappearance as a murder inquiry, she said everyone is "desperately worried by today's news".
But she added: "We are still clinging to hope that April will be returned to us.
"As more time goes on we are becoming increasingly concerned for her safety but we refuse to give up hope and are praying that April is alive."