David Cameron insisted today that the government will stick with its economic strategy despite warnings that the economy is set to shrink by 0.4% this year.
The prime minister admitted that Britain faces a "very slow healing process" after the International Monetary Fund downgraded its previous forecast of 0.2% growth.
But he dismissed calls to change course to boost growth and adopt a "Plan B" and vowed to make sure "Plan A" was "firing on all cylinders".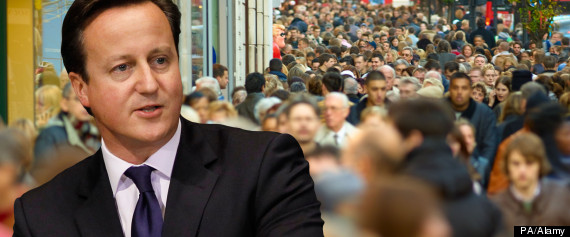 Cameron has said it is time to ensure Plan A was 'firing on all cylinders'
Cameron said: "The IMF also say we shouldn't abandon our plans of making reductions in government spending and also, regrettably in some cases, putting up some taxes to get on top of our debt and our deficit.
"So it's not Plan B that we need. What we are doing is making sure that every part of Plan A is firing on all cylinders."
He added: "These are difficult times but the worst thing to do when you have got a problem of too much spending, too much borrowing and too much debts is to do what Labour say and have more borrowing and more debt. You can't borrow your way out of a debt crisis.
But Shadow Chancellor Ed Balls said the IMF forecasts were "another damaging blow" to the government's economic credibility.
"Twelve months ago, the IMF forecast growth of 1.6% in 2012 and said a Plan B would be needed if growth were to be lower than expected. A year on, with Britain in a double-dip recession and growth forecast to be minus 0.4%, there can be no question that a change of course is urgently needed.

"The IMF has rightly warned that the Government's policies risk causing permanent damage to our economy and growth is needed to get the deficit down."
Last week Ed Miliband told the Labour party conference in his keynote speech: "If the medicine's not working you change the medicine. And friends, I'll tell you what else you change. You change the doctor too. And that is what this country needs to do."
Cameron also insisted the Government's latest wave of welfare cuts - an extra £10bn on top of the planned £18bn - would go ahead despite Liberal Democrat vows to block cuts to the poorest without further measures on the rich.
"Let me be absolutely clear, we will be taking further steps to make sure the richest in our country make a fair contribution and up to now they have paid 10 times more than the poorest 10% in terms of reducing our deficit," he said.
The prime minister said the Conservatives would work with the Lib Dems on welfare cuts to do what was "fair and right".
He added: "The simple truth, as George Osborne put it, is this - if you need to bear down on public spending and you need to get your deficit under control you don't want to cut schools and hospitals and the things we really value then you do need to look at the massive items of government spending like the welfare budget."
In an interview on ITV1's Daybreak, Mr Cameron was challenged over whether the planned welfare cuts meant the Conservatives were going back to their image as the "nasty party", which he has tried to shake off.
He replied: "I don't accept that for a moment. "When we came to power there were people all over the country getting up and going to work and their taxes were going towards families in London who were getting each £50,000-£60,000 of housing benefit every year.
"That isn't fair, so I want a fair welfare system that works for everybody. It is a national effort to pay down our deficit and deal with the debts we have inherited. We have to ask the richest in our country to bear the greatest burden, and they are doing that because of our tax changes and the approach we take," he said.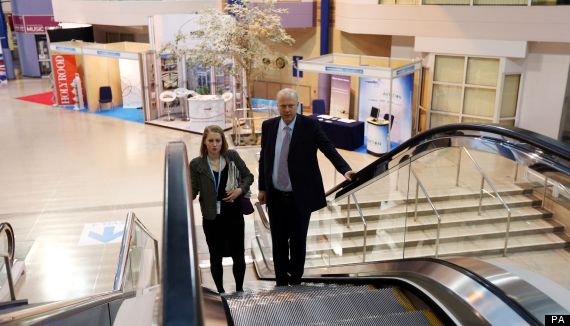 Chris Grayling arrives for today's session of the Conservative Party Conference
"We want a welfare system that supports the vulnerable and the needy, but also encourages work, rather than discouraging it."
Cameron also acknowledged that his party had not won the last election - despite highlighting a best-since-1931 performance in gaining 100 seats - but rejected suggestions that lack of competence - over the West Coast Main Line, Andrew Mitchell and Budget U-turns- would hit his ability to win in 2015.
He said: "On the broader question of competence, all governments face challenges and I would make two points - first of all we have just helped to deliver the most successful Olympic and Paralympic Games in the last century.
"Secondly, for years members of the public, me included, have been tearing their hair out, saying 'Why do we have to put up with these radical preachers, sponging money off the taxpayer and threatening our country - why can't we deport them?' This Home Secretary has managed to deport Abu Hamza and get him on an aeroplane to face justice."
SEE ALSO