A terrified couple revealed how their home was stormed by police after vile web pranksters claimed they had kidnapped April Jones.
Kevin Murphy, 43, and Debbie Maidment, 45, were left shocked when officers swooped on their home last Sunday after claims on Facebook they had the missing Welsh girl.
The message was posted on a Facebook group on Sunday morning, which sparked a deluge of calls from concerned friends and relatives.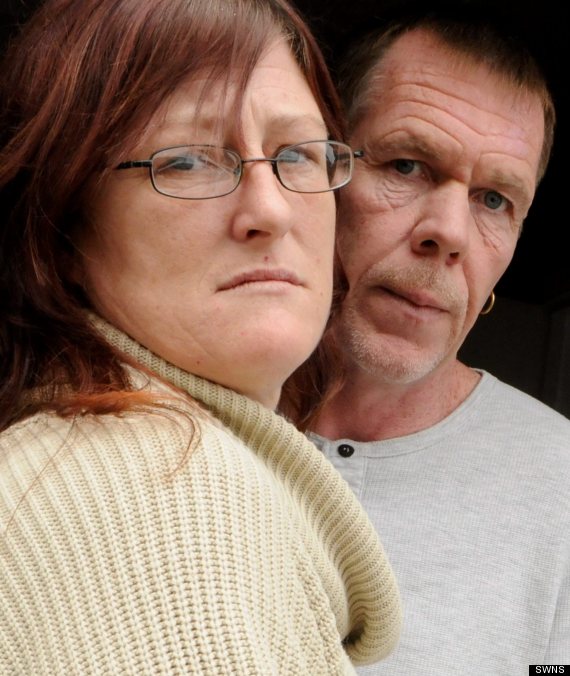 The couple were left terrified after the web prank
Then at 9.45pm that evening cops descended on their home and began to rummage through every crevice of the couple's home.
Astonishingly they claim the hoax message is the latest attack in a five-year hate campaign orchestrated by an estranged member of Mr Murphy's family.
Kevin and Debbie were still trying to return to normality after they were accused of nabbing missing April - as hopes faded of finding the primary school pupil.
Mr Murphy, 43, said: "The police just went through opening cupboards, searching everything down to the smallest carrier bag.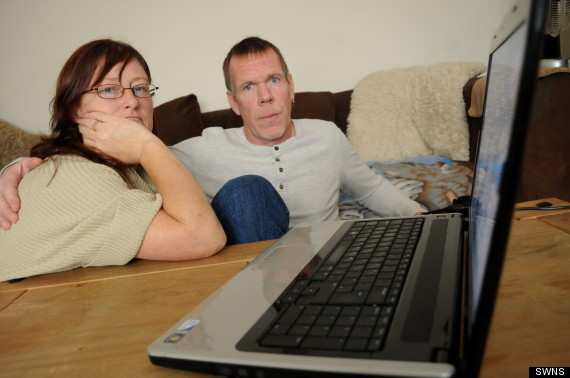 Kevin and Debbie were still trying to return to normality after they were accused of nabbing missing April
"It would have hampered the search because they don't need to be searching here when they could be spending time doing what they set out to do.
"How many hundreds of miles are we from Wales? I've never lived in Wales in my life.
"It has just been a plague of prank calls. They have put on Facebook that I'm a paedophile, I'm a rapist, that I stab people with knives.
"When the old man that went missing from a home in Canterbury was in the news, they put on Facebook that we had him and the police came and searched my house for him."
Shockingly Mr Murphy has also been the subject of prank calls, branded a paedophile and a rapist by the internet bully.
The couple were also raided by police when an old man went missing from Canterbury and the prankster claimed they had taken him.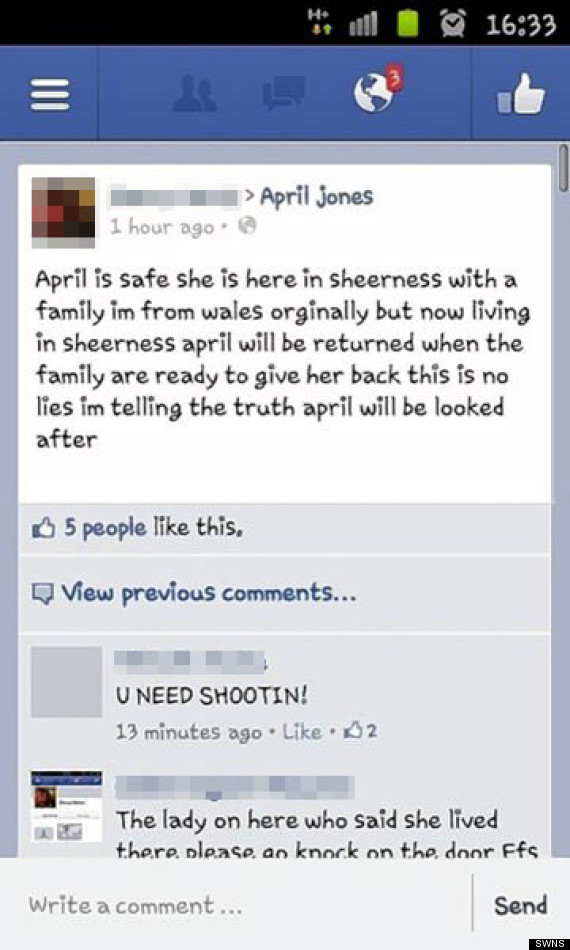 The vile Facebook prank
A friend who phoned the police to defend the couple also had their home searched by police officers looking for April.
Miss Maidment was so worried about her family's safety that she sent her 11-year-old daughter to stay with her sister.
She said: "My neighbours are brilliant, that was my only concern - they've all got children themselves." Police have admitted they may not find April despite continuing to search for the five-year-old
The Facebook message is believed to have been left by an estranged female relative hiding behind a fake account using the name Danny Hanly, it emerged yesterday (Weds).
A first message read: "April is safe she is here in Sheerness with a family im from wales originally bit now living in sheerness april will be returned when the family are ready to give her back this is no lies im telling the truth april will be looked after."
The prankster then left another message on the Facebook page saying: "ok everybody april is in 43 botany close sheerness Kent happy now."
Devastated Miss Maidment said she was terrified someone might attack her house after the comments were left on Facebook.
The mother-of-two, who lives in Sheerness, Kent, said: "It was just awful.
"It is so shocking that someone could do this.
"The whole thing has been terrible. We believe it is an estranged relative of Kevin's and the police are currently looking into the matter.
"After the comments were left on Facebook by the fake account I thought someone was going to attack our house and I feared for my daughter's safety.
"But it must be even worse for the family of April. The comments would have been even more horrible for them.
"I just want the harassment to stop - it's shocking that someone is so sick in the head that they can leave messages like that."
Miss Maidment is a full time mum and Mr Murphy is a removal man.
A Kent Police spokesman said: "We are aware of a malicious hoax Facebook message claiming that missing April Jones is at an address in Kent.
"This is completely false and officers are making inquiries into the origins of this hoax."
Mark Bridger, 46, has been remanded in custody charged with the murder of April Jones, who has not been found.
Comments are closed on this entry for legal reasons
SEE ALSO: April Jones Murder Accused Mark Bridger Appears In Court