Ebay has launched a redesign of its entire website, with a focus on personalisation and a better search experience.
After it promoised that it would unveil "the new eBay", hopes were high for some fairly major new features.
The result is a completely redesigned site which takes its cues from Pinterest - much like the Facebook Collections product currently being tested by Mark Zuckerberg's company.
The changes will hit the US first and the UK within "months", a spokesperson said.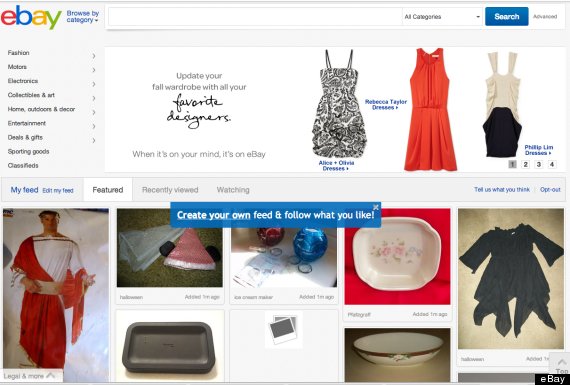 Above: The new eBay
Each users 'feed' will display a stream of images featuring products you may be interested in purchasing.
It also unveiled "eBay Now", a same-day delivery service which so far is only available in San Francisco.
There, customers will be able to order from partners including Toys R Us and Target and have products arrive within hours.
At the event at the Highline Stages in New York, eBay said that more than 100 million users spend more than $70 billion on its website every year.
Devin Wenig, President eBay Marketplaces, said:
"Technology is revolutionizing the way people shop, and eBay is shaping the future of commerce. In the next few years, the $10 trillion global retail market will be transformed. And consumers will enjoy unprecedented access and convenience. eBay will be at the center of this revolution for consumers. Blending the best of offline and online shopping, we will deliver products and experiences that surprise and delight, defining a new way to shop.

The future of commerce is personal, driven by data. Search results and recommendations are no longer enough. Consumers want insight. And they want personal, curated selection that is relevant to them, controlled by them.

Consumers want experiences that are not intrusive but inspiring, experiences that don't dictate but guide and assist, in ways that feel authentic and natural. We want to make moments of inspiration instantly shoppable. This is what eBay is poised to deliver."