Lord Triesman, the former chairman of the Football Association, has said he "couldn't understand" why John Terry's ban for racially insulting Anton Ferdinand was half that of the one Luis Suárez received.
Terry has been suspended for four matches and fined £220,000 by the FA whereas Suárez was handed an eight-match ban and a £40,000 fine for racially abusing Patrice Evra.
Many in football are baffled by Terry's fine - over five times that of the one Suárez incurred - although the FA clarified the deficit between the two bans was that the Uruguayan repeatedly insulted Evra.
But Triesman feels that Terry's punishment is inconsistent with the precedent set with Suárez.
"I couldn't understand why the sanction was different for a Liverpool player and for John Terry," Triesman confessed.
"It may be when you look at all the details they thought there were reasons for [the difference]. I can't see it."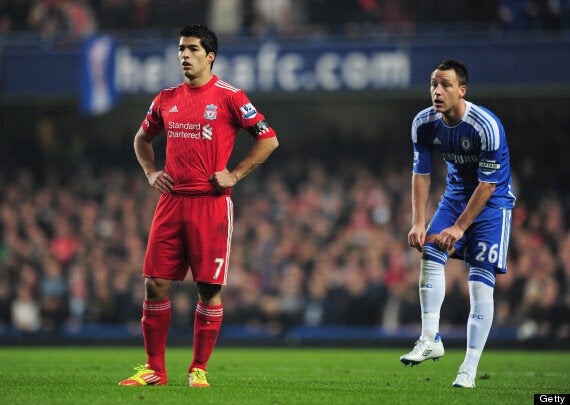 Suárez and Terry have both been found guilty of airing racial slurs in the last year
Terry, who is yet to clarify whether he will appeal the guilty verdict which was announced last Thursday, retired from international football four days before he was found guilty by the FA.
Chelsea captain Terry was found not guilty of racially abusing Ferdinand by Westminster Magistrates' Court in July.
Triesman, who was chairman when Terry was stripped of the England captaincy in February 2010, said it would be "sensible to apologise" and "accept it's not a good standard". Triesman was the FA chairman between 2008 and 2010
"I just don't believe in this day and age that anybody can think that it's OK, and that you don't owe an apology, not least to the other player, he told the BBC."
Labour peer Triesman resigned as FA chairman in May 2010 when a civil servant surreptitiously tape-recorded him in a restaurant alleging bribery attempts by Spain and Russia of referees ahead of the summer's World Cup.