Whether you're a member of the US military, a freedom fighter from the future battling the evil alien menace, or a bored office worker with disposable income, there is no shortage of people in the market for robotic drones.
If you're one of them you now have a new and intriguing option.
The Micro Drone is a brand new, well, small drone available on Firebox for pre-order as of today - and it's awesome.
Costing just £69.99 - a fraction of some other drones on the market - it's a capable and flexible craft. Coming with four rotors, an automatic gyro and some cool stunt abilities, including a 360-degree flip, it's no simple plaything.
Indeed when HuffPost tried one out for ourselves, we found this is craft that rewards repeated use.
For one thing the controller is larger than the drone itself - with a mass of buttons, throttles and trims that require quite careful thought, at least at first.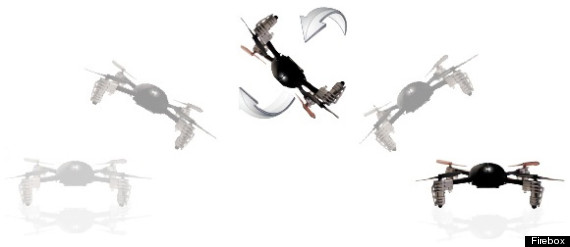 Once you get going, though, the Micro Drone is a lot of fun. It's agile, quick to master, and is small enough that you can use one indoors without too much trouble.
There are a few issues - there's no camera on board, which you'd expect from a cheaper drone but which is still a downer. Plus, as ever with these things, the battery life is relatively slight and its plastic rotor blades do tend to snap if you're not careful.
But for what is a small and high quality drone at an affordable price, it's a neat little package. The USB battery charging is a bonus, and the 120-metre range is pretty great too.
Plus if you get keen on the drone idea, you can always pick up a Parrot AR Drone 2 instead...
Pick one up over at Firebox if you'd like to start terrorising your pets/emergency lifting Lego MiniFigs to safety/commanding a personal robot army.