Nasa's Endeavour shuttle, one of the original five made in the USA, is about to embark on its final voyage.
It's not the 238,855-mile trek from Earth to the Moon, but rather a two-day, 12-mile hike to its final resting place, the California Science Center.
Travelling at a pacy 2mph through the streets of Los Angeles (0.0114% of its one-time top speed of 17,500mph), the huge vessel will make the journey to the Center, marking the end of a 19-year career that included a total of 25 missions.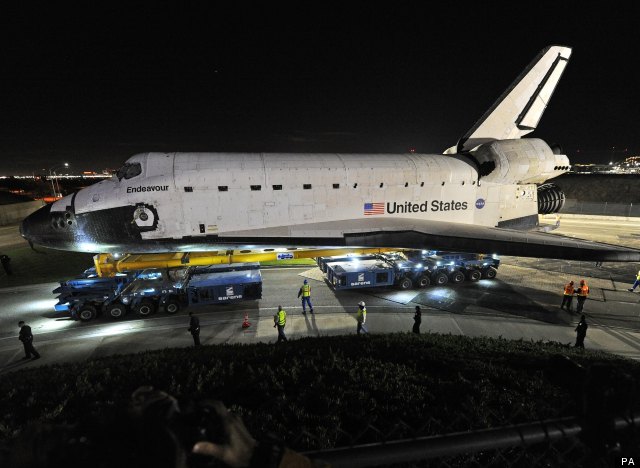 The Endeavour will be carried through the streets of Los Angeles
Last month, the shuttle flew from Florida's Cape Canaveral and thenpassed over California landmarks strapped to a Boeing 747 on its final flight before taking up residence at the Science Center.
In order to make the trip through LA, workers have had to fell 400 trees from around the area. The shuttle will also have to squeeze through intersections where there will sometimes be as little as 15cm leeway.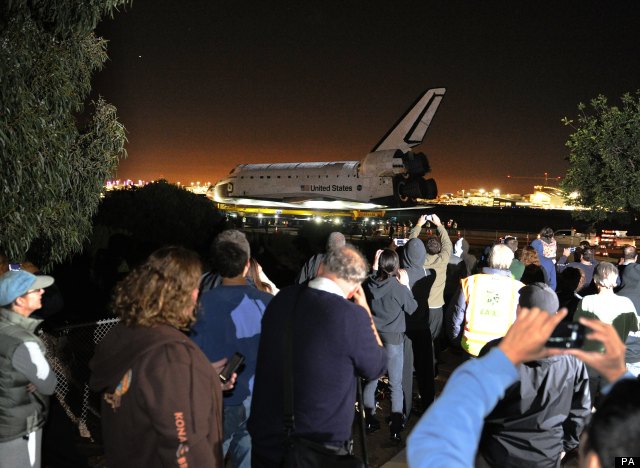 Crowds gathered to watch the Endeavour being readied for its trip
According to Reuters, "police were closing streets along the planned route for what organisers are calling 'Mission 26', in reference to the shuttle's 25 previous missions into space."
The Endeavour is the one of the last of the original Nasa fleet to be officially retired.
The Smithsonian in Washington hosts the Discovery, New York City the prototype shuttle Enterprise at its Intrepid Sea, Air and Space Museum while Atlantis resides at the Kennedy Space Center in Cape Canaveral.
Nasa is retiring its shuttle program which ran for for 30 years and 135 missions.