UPDATE: Giant Eyeball Mystery Solved, Click Here To Find Out More...
Anyone missing a giant eyeball?
This freakishly large peeper was found washed up on a Florida beach - and no one can be sure where it's from...yet
Gino Covacci spotted the eyeball on Wednesday as he strolled on Pompano Beach.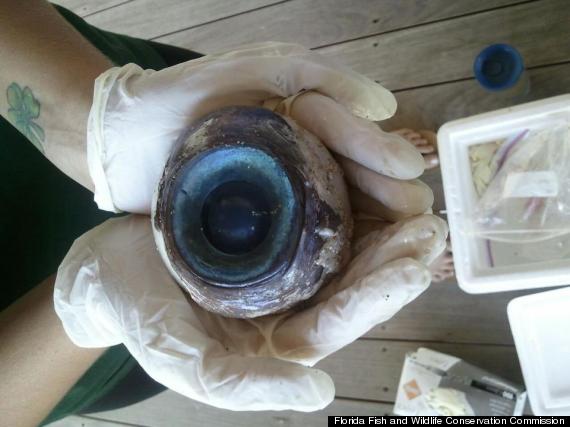 He contacted the Florida Fish and Wildlife Conservation Commission who have placed it on ice and sent it their labs for possible identification.
Covacci told the Orlando Sentinel: "It was very, very fresh. It was still bleeding when I put it in the plastic bag."
Carli Segelson, spokeswoman for the FWC told HuffPost Miami: "This is definitely an unusual situation, where an eye would be found independent of any other body part.
SEE ALSO:
"It will probably take a little while to identify the eye."
While tests are conducted, the FWC has invited theories on the origins of the eye via Facebook, garnering suggestions of giant squid, whales, swordfish, a mastodon and... Bigfoot (in the sea?!).
What do you think?