It flew 115 million miles to and from orbit at speeds of up to 17,500mph, but the space shuttle Endeavour's final mission after a 20-year career was at the more sedate pace of 2mph (0.0114% of its top speed) - through the streets of Los Angeles.
The spacecraft, one of the original five made in the USA, is being paraded from Los Angeles' LAX airport on a 12-mile route to its final resting place at the California Science Centre, which it will reach late on Saturday.
According to Reuters, "police closed streets along the planned route for what organisers are calling 'Mission 26', in reference to the shuttle's 25 previous missions into space." Low-altitude journey: Endeavour makes its way through LA
Mounted on a flatbed carrier, it has been a tricky journey, with the 78-ton vehicle sometimes being just inches from buildings.
There have also been a few protests from locals about trees being cut down to make room for the shuttle and electricity being cut off as a safety precaution.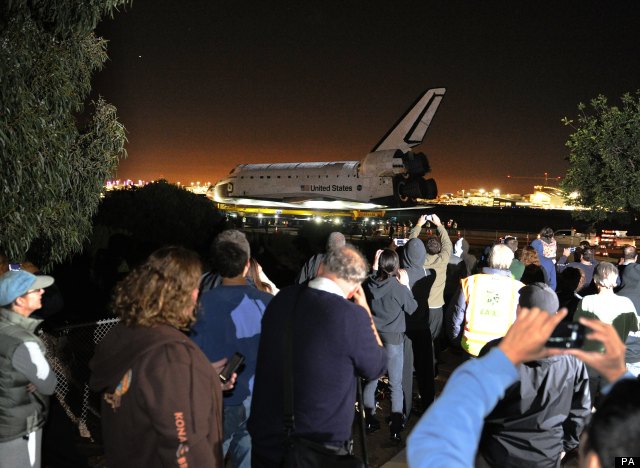 Crowds gathered to watch the Endeavour being readied for its trip
However, authorities have assured environmentally concerned residents that more trees will be planted than were pulled up, and the craft has so far received a rapturous reception along most of the route, with some chanting "USA, USA" as it passed.
In September the shuttle made a final dramatic flight over California on the back of an adapted Boeing 747.
The Endeavour is the one of the last of the original Nasa fleet to be officially retired.
The Smithsonian in Washington hosts the Discovery, New York City the prototype shuttle Enterprise at its Intrepid Sea, Air and Space Museum while Atlantis resides at the Kennedy Space Center in Cape Canaveral.
Nasa is retiring its shuttle program, which ran for for 30 years and 135 missions.