Imran Khan, the Pakistani cricket star turned politician, has caused outrage by claiming that the Taliban are fighting a 'holy war' justified by Islam in neighbouring Afghanistan.
Khan made the comments after a visit to the hospital in Peshawar where 14-year-old blogger Malala Yousafzai is fighting for her life after being shot by the Pakistani Taliban.
Citing a Quranic verse he said: "It is very clear that whoever is fighting for their freedom is fighting a jihad … The people who are fighting in Afghanistan against the foreign occupation are fighting a jihad."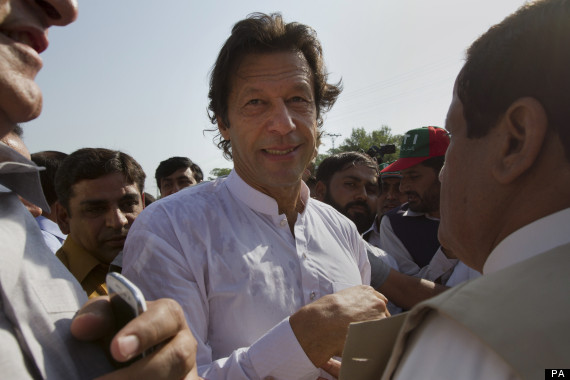 Imran Khan said the Taliban are fighting a jihad
The Afghani government were quick to condemn Kahn's comments with a spokesman saying Kahn was "either profoundly and dangerously ignorant about the reality in Afghanistan or he has ill will against the Afghan people".
"Our children are killed on a daily basis, civilians killed and our schools hospitals and infrastructure attacked on a daily basis,"
"To call any of that jihad is profoundly wrong and misguided."
Afghanistan's president, Hamid Karzai, wrote an open letter to Pakistani politicians including Khan, in the wake of the shooting of Yousafzai saying: "We must ask why we have been unable to counter the terrorism that is attacking our religion, our people, and the promise of a better future for our children".
He added that the shooting showed countries in the region faced a "dangerous enemy who seeks to doom the present and future of their people to darkness and ignorance". A Pakistani boy holds up a picture of 14-year-old schoolgirl Malala Yousufzai, who was shot last Tuesday by the Taliban
Khan blamed the rise in Islamic militancy in Pakistan not on the militants themselves but on US military action, particularly CIA drone strikes.
He believes the best way to stem the escalating violence in the country is to order the shooting down of the drones.
The shooting of Yousafzai however, has put Khan at odds with both politicians and public alike who have angrily rallied against the Pakistani Taliban with revulsion at the shooting of a 14-year-old who was standing up for girls education.
Yousafzai's condition is said to be improving with doctors still deciding whether to not to send her overseas for treatment.
SEE ALSO