Jimmy Savile has been stripped of his honorary doctorate which he was given by universities' admissions "tsar" Les Ebdon following numerous sexual assault allegations.
The late presenter and DJ has been at the centre of a number of claims he indecently assaulted children and mental health patients and as a result, his Bedfordshire University degree has been withdrawn.
Savile was presented the doctorate in 2009 by Ebdon, who is now director of the Office for Fair Access (Offa), even posing for a picture with the professor.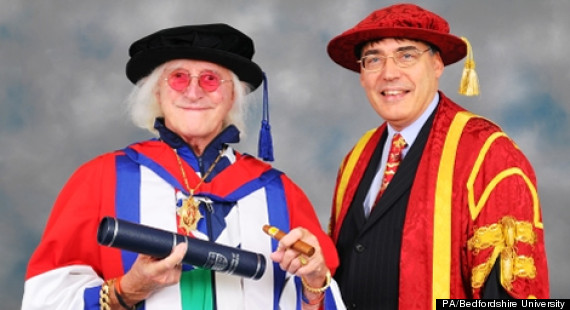 Jimmy Savile (left) with university admissions tsar Les Ebdon
Shortly before the ceremony, the former Top of the Pops presenter was interviewed by the university, the Daily Telegraph reported. After being asked if he was "carrying on leading an interesting life", Savile replied: "Yes, well, I've not been found out yet."
A spokesperson for Offa said the event was the only occasion the pair had met and insisted that Professor Ebdon "was not a personal friend" of Savile.
The university confirmed the honorary degree would be rescinded after the board of governors' nominations and honour committee met over the weekend.
"The honorary award was in recognition of his charitable fund-raising. It was given in good faith without the knowledge of the current very serious allegations," a spokesperson for the institution said.