A British man has died after a sightseeing boat capsized near Cape Town, South Africa, throwing 38 people into shark-infested waters.
Peter Hyett, 64, was on a whale-watching trip with his wife Suzanne, 63 and daughter Helen, 37, off Hout Bay when the tragedy occurred.
Originally from Bournemouth, the couple had retired to south Wales and the family were on the last day of their holiday .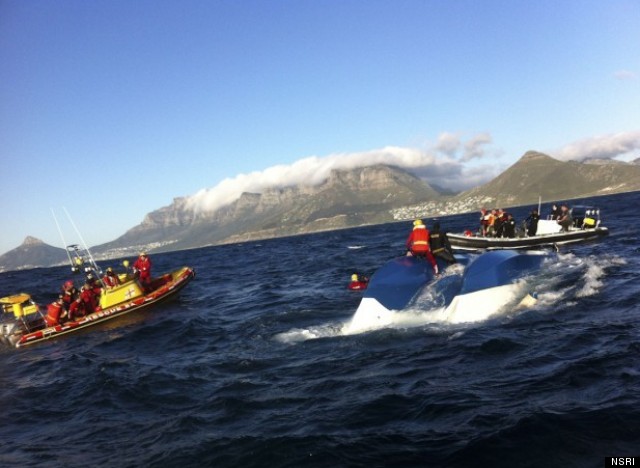 Five Britons as well as a number of French citizens and South Africans were believed to be on board
Two other British women Lynette Harmann and Bronwyn Armstrong managed to survive for hours in the freezing waters after breathing oxygen from an airpocket in the hull of the boat.
Miss Hartmann suffered damage to her eyes after diesel in the water became trapped behind her contact lenses. Both women were treated for hypothermia but have been discharged from hospital.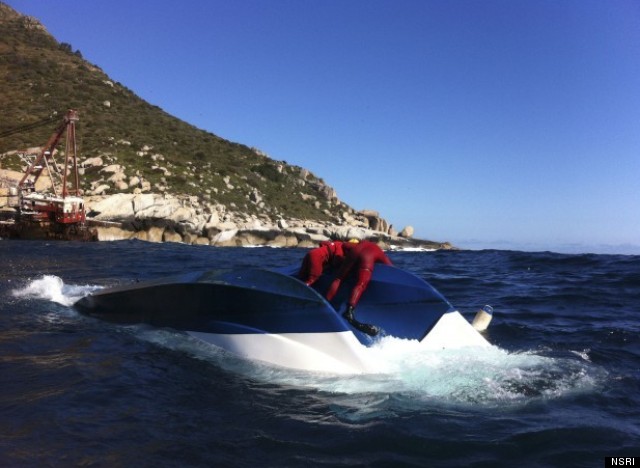 Rescue workers communicate with survivors trapped beneath the boat Miroshga
The British consulate for Cape Town, Chris Trott told the Telegraph it must have been "an unimaginably difficult situation" saying "the water was just five degrees when they went in."
Crew member John Roberts was also killed in the accident. The South African had reportedly given his life jacket to one of the four children onboard because the youngster didn't have one.
'Thirty-six people were saved and only a few of the 24 people who were transported to various hospitals remain in hospital for further treatment but all are expected to recover fully,' said a statement on National Sea Rescue Institute's website.
Onlookers said a large wave caused the boat to capsize
A spokesperson for the Foreign and Commonwealth Office said: "We are aware of a boat capsizing in Hout Bay near Cape Town on Saturday afternoon. We can confirm the a death of a British National in this incident.
"Several British Nationals were also hospitalised following the incident, most of whom have now been released. Our Consul General went to the port immediately after the incident and we are providing consular assistance to all those that need it."
SAMSA (The South African Maritime Safety Authority) will investigate the cause of the incident, the NSRI said, with witnesses suggesting a large wave caused the catamaran to capsize.

The area around Hout Bay is known as an area of outstanding natural beauty