Madonna dedicated a striptease to her, and now the schoolgirl shot in the head by the Taliban has another celebrity admirer in the form of Angelina Jolie.
Rather than getting her kit off, the Hollywood temptress composed an essay in tribute to Malala Yousafzai, who is currently being treated at Queen Elizabeth Hospital Birmingham.
The 14-year-old was shot with two classmates as they made their way home from school in Swat, in the north west of Pakistan.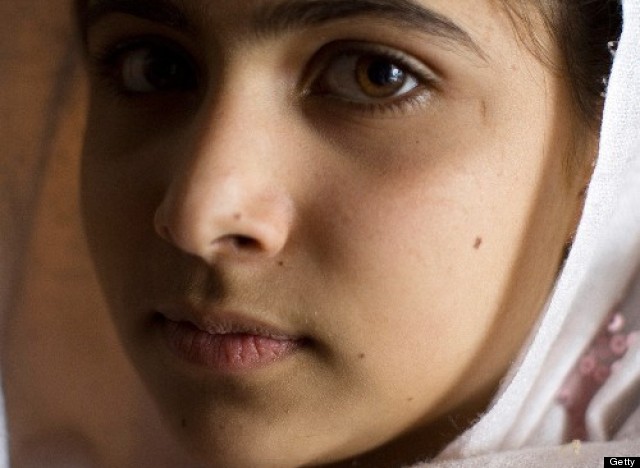 Malala Yousafzai was shot in the head by Taliban gunmen
She was attacked by the Taliban for promoting girls' education and criticising the militant group.
Writing for The Daily Beast, Jolie revealed she had felt compelled to share Malala's story with her children, who struggled to "comprehend a world where men would try to kill a child whose only 'crime' was the desire that she and others like her be allowed to go to school." Angelina Jolie has composed an essay in tribute to Malala
Jolie, who has six children with Brad Pitt, writes that her brood were so moved by Malala's plight, they suggested erecting a tribute statue for the teenager.
The 37-year-old actress, who is a Goodwill Ambassador for the United Nations High Commissioner for Refugees, describes the shooting as "the beginning of a necessary revolution in girls' education" and even calls for Malala to be considered for the Nobel Peace Prize.
She wrote: "Malala is proof that it only takes the voice of one brave person to inspire countless men, women, and children. In classrooms and at kitchen tables around the world, mothers, fathers, sons, and daughters are praying for Malala's swift recovery and committing themselves to carry her torch. As the Nobel Committee meets to determine the winner of the Nobel Peace Prize, I imagine brave Malala will be given serious consideration."
Jolie's heartfelt words are likely to be received with less venom then those delivered by Madonna, who addressed her LA audience last week, urging it was time for a "serious chat".
Saying news of the attack had "made her cry", she asked the crowd: "Do you understand the sickness and absurdity of this?"
She then performed a striptease, turning around to reveal the word "Malala" emblazoned across her back, The Hollywood Reporter said.
Madonna's dedication sparked strong feelings among Twitter users, who were divided between branding her "crass and hypocritical" and thanking her for her for bringing the Malala's plight to a world stage.
While Jolie is also a powerful Hollywood woman famous for her sex appeal, it will be interesting to see what the world makes of her two-pence on the matter...and the manner in which she delivered it.