The last thing Londoners expected on their commute in to work on Thursday morning was to be confronted by 60 dancing breasts. But confronted they were.
Breast cancer charity Coppafeel! staged an flashmob in London's West End, where 60 volunteers wearing large canvas breasts got their groove on to boob-related songs "My Humps" by The Black Eyed Peas and "I Feel For You" by Bob Sinclair.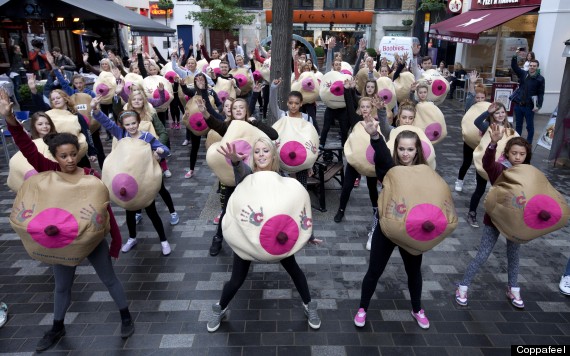 It's the most recent in a long line of refreshing campaigns and fundraising initiatives run by the charity, which have included urging university students to "Coppafeel in the shower" and sending Chris O'Dowd along to meet a troupe of "topless trampolinists".
Kris Hallenga, the organisation's CEO and HuffPost UK blogger, was diagnosed with breast cancer at just 23 and has since founded Coppafeel!. The charity aims to stamp out late detection and misdiagnosis of breast cancer, by ensuring young women know the signs and symptoms.
Kris' blog: Keeping Abreast of It - Running a Nationwide Charity Is Worth Every Effort
This year breast cancer awareness month has seen a range of innovative campaigns from National Stockings Day with lingerie giant Charnos and a shocking campaign by the Scottish government which is the first to show real pictures of women's breasts with visible signs of breast cancer.
LIKE HUFFPOST UK LIFESTYLE ON FACEBOOK | FOLLOW US ON TWITTER