Chelsea's perceived hypocrisy over their "confidential" disciplinary action against John Terry may threaten to undermine Kick it Out's campaign against racism in football.
On Thursday Terry apologised for calling Anton Ferdinand a "f****** black c***" 361 days after the incident occurred during the Blues' visit to Queens Park Rangers in October last year, and Chelsea are believed to have fined him two weeks' wages.
And whereas Terry will be £440,000 out of pocket due to his suspension, the club gave one fan a five-year ban after he was filmed yelling racist abuse.
The club has also been criticised for its lack of transparency by chairman of Kick It Out, Lord Ouseley, after a "hugely damaging period" in English football.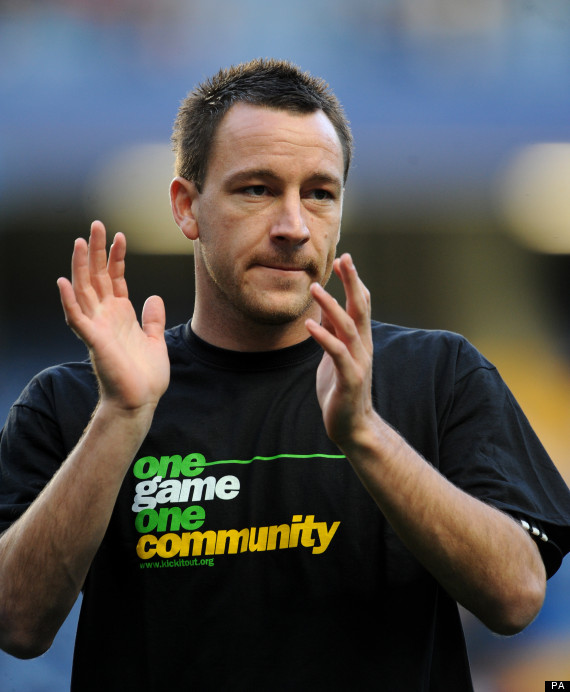 Terry wearing an anti-racism T-shirt in 2009
"A personal apology last October would have clinched it and saved everybody the pain they have gone through," Lord Ouseley said. "It has been intolerable for Anton Ferdinand and his family, with the hurtful and abusive messages they have been subjected to."
Reading striker Jason Roberts has also lambasted Chelsea and threatened to boycott Kick It Out over his frustration at the organisation's supposed inaction. Kick It Out launches its 'One Game One Community' initiative this week as their annual awareness campaign commences.
Roberts told BBC Sport: "I won't wear one. I find it hard to wear a t-shirt after what happened last year.
"I'm totally committed to kicking racism out of football but when there's a movement I feel represents the issue in the way that speaks for me and my colleagues, then I will happily support it."
Although Chelsea has been a vocal campaigner against racism in football, their treatment of supporters differs to that of their captain.
Footage of Danny Townsend-Bird's derogatory tirades were discovered on his iPhone in an unrelated drugs investigation, Westminster Magistrates' Court heard in June this year.
The video, taken at two Chelsea matches, saw the 27-year-old shouting "spick" and "Argentinian scummer", while another clip showed him abusing an Asian driver while riding in the back of a taxi.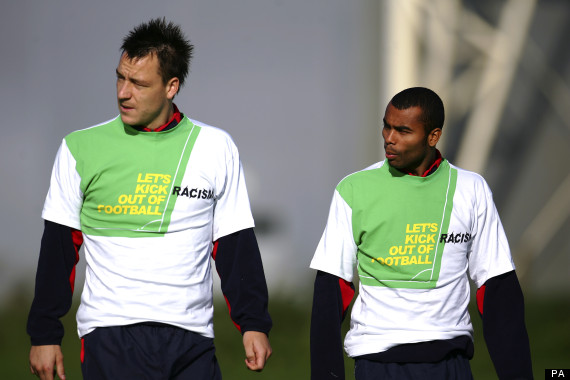 Terry and Cole with England in 2004
In September Chelsea also vowed to hand out life bans for supporters found guilty of racially abusing midfielder John Obi Mikel.
Mikel made a mistake in the home match against Juventus in the Champions League last month which led to the Turin side equalising after falling 2-0 behind.
Terry, who will be absent for Saturday's match away at Tottenham as he begins his four-match ban, belatedly acknowledged his language was "not appropriate" on Thursday.
"I want to apologise to everyone for the language I used in the game against Queens Park Rangers last October," the 31-year-old said.
"My response was below the level expected by Chelsea FC, and by me, and it will not happen again.
"With the benefit of hindsight my language was not an appropriate reaction to the situation. I accept that the language I used is not acceptable on the football field or indeed in any walk of life."