Cheryl Cole suffered an embarrassing slip-up during her performance at the 'Stand Up To Cancer' telethon on Friday night after her mic failed to work.
Chezza was performing her single 'Call My Name' on the new charity drive on Channel 4 when she suffered technical issues - without realising.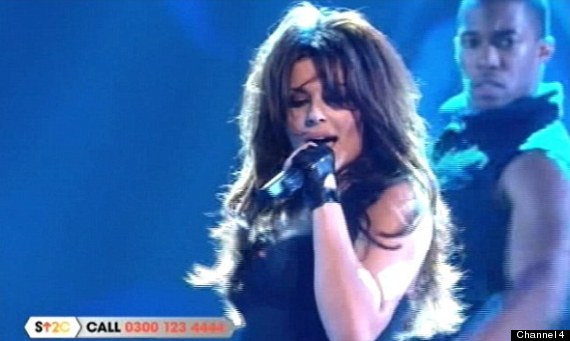 The star danced and sang in the mic while a backing track played, but the audience was left straining to hear anything as her vocals failed to come through the speakers.
More embarrassingly, the star carried on dancing without any knowledge that viewers couldn't hear a word of her set.
Davina McCall swiftly moved on with the show after admitting there had been an issue.
A rep for Channel 4 says: "Unfortunately with the nature of live TV you sometimes have glitches and this was the case with Cheryl's mic in the opening number and it was rectified as soon as possible."
After the show, she took to Twitter to defend the issues, writing: "I really dn't feel upset abt the tec issues during my performance and chat.. I just hope every1 commenting on it has done their part 4 the cause."
The cringeworthy performance came after a triumphant day for the star after Girls Aloud officially announced their comeback to much fanfare.
At a press conference in London, the fabulous fivesome revealed they would be releasing a single, Something New, and a new album called Ten, and will also be heading out on an arena tour to celebrate their 10 years in pop.