Best known for presenting The Sky At Night astronomer Patrick Moore has joined forces with none other than Queen guitarist Brian May and his right-hand-man Chris Lintott to write a new book, The Cosmic Tourist, which has now rocketed into book shops.
The trio, who share a great passion in observing the night sky, spoke to The Huffington Post UK about what makes them tick.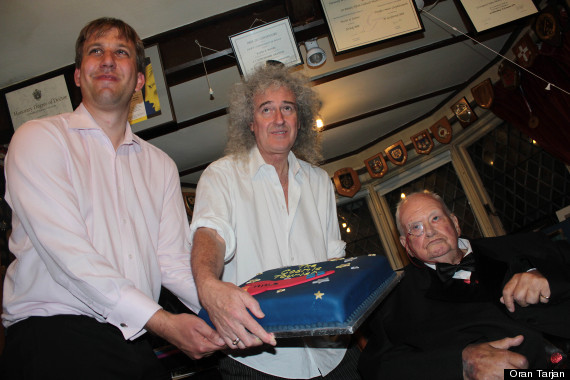 Sir Patrick Moore is one of the longest running presenters of a TV show, but revealed he has no plans of retiring anytime soon. He also reiterated his belief that there is life outside our solar system.
Close friend Brian May, disagrees, though. He said: "I doubt it. It's only recently that I've come to this conclusion, it's because even though there are billions of galaxies nobody knows how the first steps towards life happened in spite of all the incredible research that's been done. There's a massive gap between a simple organic molecule and an organism that can reproduce itself."
He does admit, though, that "this is a unpopular belief amongst many astronomers". He also believes that an event as immense as the Big Bang may never happen again.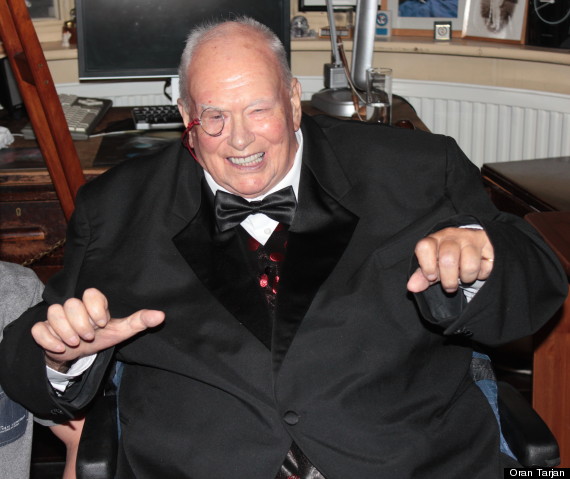 Patrick Moore brings back the Demon King from his stage days
Brian stresses that the new book is accessible to budding astronomy beginners, describing it as "a tourist guide book to the skies" that will leave you "well into astronomy".
He explains that his favourite things to observe are the planets, something he does on the roof of his home in west London.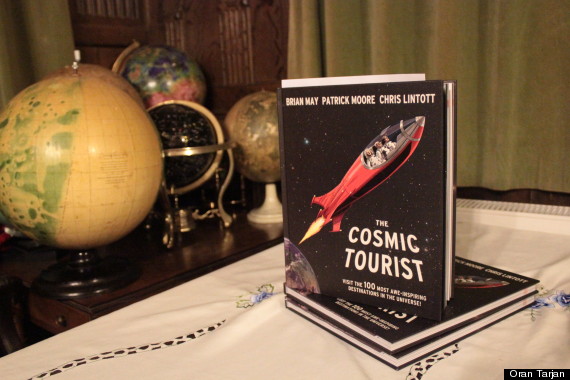 When asked if he and Patrick Moore have ever collaborated musically the Queen guitarist said "not really unless you count singing late at night after a few drinks".
But he reveals that he invited Patrick to a performance of the musical he co-wrote, We Will Rock You, and said he had a nice time. When Brian asked Patrick what he really thought, he replied: "Well, I don't really relate to anything after about the 1950's."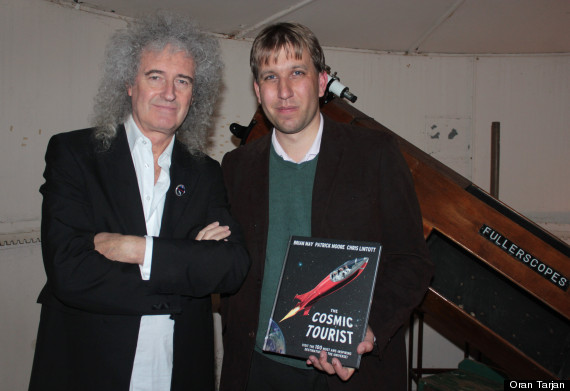 Brian May and Chris Lintott pose with a copy of new book The Cosmic Tourist
Huffington Post UK also caught up with the other author of The Cosmic Tourist, Chris Lintott, whose recent discovery of the new planet PH1 caused quite a stir in the astronomical world.
He said: "I love the sci-fi aspect of it, it's six times the size of the earth and pretty hot, about 480 centigrade. I wouldn't recommend it for a summer holiday.
"We don't understand how it was formed yet - in fact professionals let it slip through their fingers at first. Most importantly, the computer missed it."
The discovery of PH1 was made through the website Planet Hunters, through which volunteers can access live data from a Nasa satellite.
Chris added: "We literally don't know what's out there. You could discover a new planet tomorrow."
Patrick Moore - The Cosmic Tourist Launch