John Terry will wear Uefa's 'Unite Against Racism' armband should he be selected for Chelsea's Champions League fixture away to Shakhtar Donetsk on Tuesday.
Terry, who served the first of a four-match domestic ban for racially insulting Anton Ferdinand against Tottenham Hotspur on Saturday, apologised for the October 2011 incident last week amidst a mutinous background regarding racism in English football.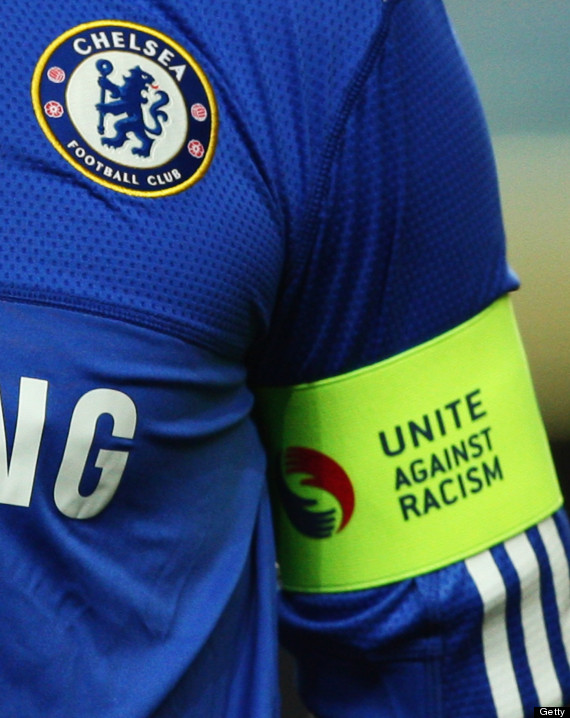 Teams in Uefa competitions have occasionally worn anti-racism armbands
Uefa, who have long been criticised for their stance against racism, have launched the initiative after Kick It Out's awareness began with several black players in the Premier League refusing to don their T-shirts in protest.
A Uefa statement said: "Every team will be accompanied onto the pitch by children wearing "Unite Against Racism" T-shirts and the captains will be asked to wear a 'Unite Against Racism' branded armband."
Players will be requested to promote the campaign in the 40 Champions League and Europa League matches this week while fans will be encouraged to unite against racism.
The move comes a week after Serbia supporters subjected England Under-21 international Danny Rose to monkey chants. Uefa have since charged both the Serbian and English Football Associations.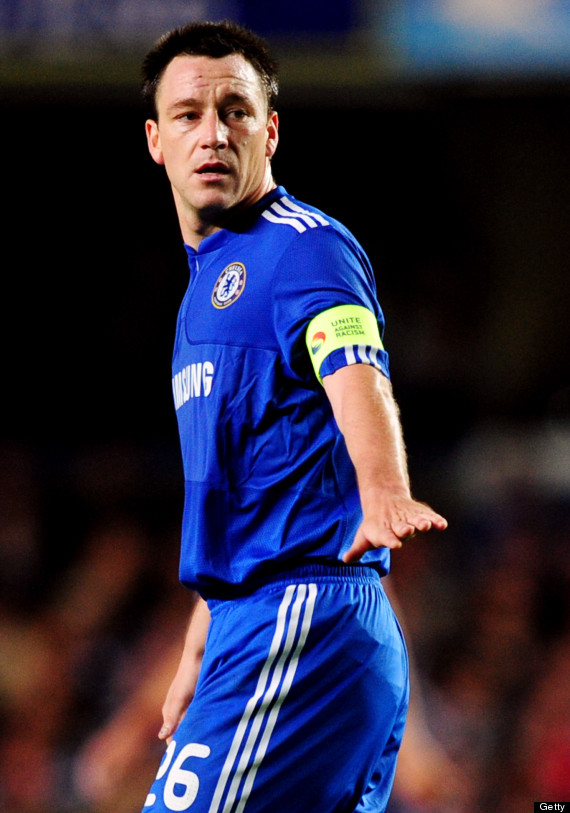 Terry wearing an anti-racism armband in 2009
Rio Ferdinand, whose boycott was described as "embarrassing" by Manchester United manager Sir Alex Ferguson after their 4-2 win against Stoke City on Saturday, spoke with the Scot on Sunday as the pair thrashed out their differences.
Ferdinand's decision not to wear a Kick It Out T-shirt during the warm-up was a display of solidarity with his brother Anton, who also did not have one on prior to Queens Park Rangers' draw with Everton on Sunday.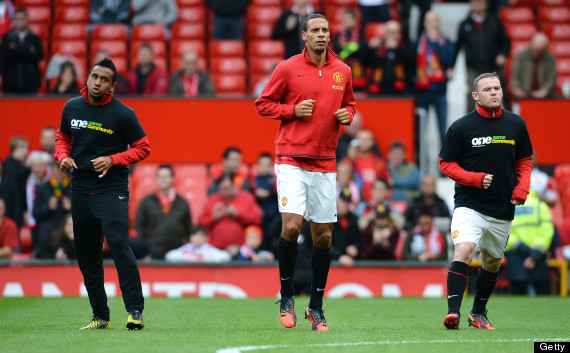 Ferdinand refused to wear a Kick It Out T-shirt
Whereas Ferguson was appalled by Ferdinand after clarifying all of his players would promote Kick It Out the day before, Reading's Jason Roberts was backed by manager Brian McDermott for not doing wearing one.
After United's match, Ferdinand's name was chanted rapturously by the Stretford End in a unanimous show of support.