Before Hurricane Sandy hits, don't wait. Get out.
The message is stark from US President Barack Obama, New York mayor Michael Bloomberg, New Jersey Governor Chris Christie, weather experts and Federal Emergency Management Agency.
(SCROLL DOWN FOR LIVE UPDATES)
Brits are unable to get to or from the area, with flights cancelled across the East Coast and fears many could be stranded for days.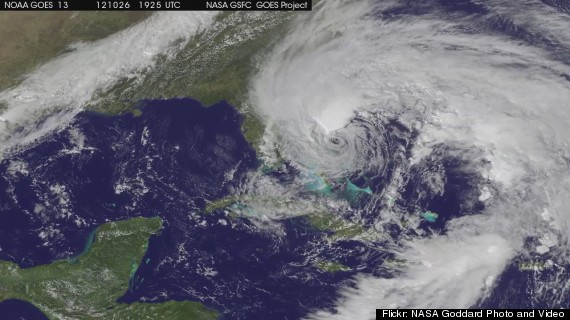 The sheer scale of Hurricane Sandy is apparent in this NASA satellite photo
Air France, British Airways and Virgin Atlantic have grounded all of Monday's flights on both sides of the Atlantic to and from New York, Baltimore, Newark, Washington, Boston and Philadelphia.
A statement on BA's website said: "We understand that customers may be disappointed, however their safety is our highest priority. We are offering the option to rebook or receive a refund to those customers whose flights are cancelled.
"We have also received reports that public transport links to East Coast US airports may be disrupted so advise customers to review their flight and local travel plans before leaving for the airport."
A spokesman for Virgin Atlantic said: "Passenger and crew safety is our number one priority and we are continuously liaising with local authorities to assess the situation and minimise the disruption caused to passengers.
"We advise all passengers to check our website: www.virginatlantic.com for the latest updates and advice."
7,000 internal US flights have also been cancelled.
Vincent McAviney, 24, from London, was due to be travelling to Washington but his flight was cancelled.
He said: "Looking at the pictures and the forecasts it seems like a fair enough decision. I'm obviously disappointed that my holiday has been shortened but it's nature, so there's not much we can do about it."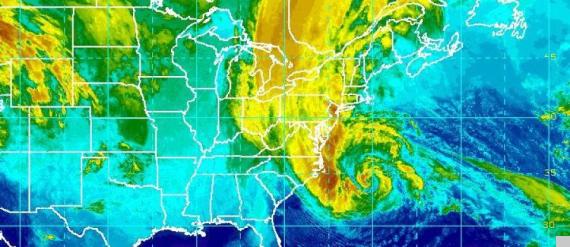 A satellite image of Hurricane Sandy
States of emergency have been declared in nine states including Maryland, New York, Pennsylvania, Virginia and Washington DC, ahead of the expected a Category 1 hurricane.
1,500 members of the National Guard have been mobilised to provide emergency assistance.
Public transport has been shut down, stations emptied and schools closed as weather forecasters called Sandy a "super storm".
There are fears that parts of lower Manhattan could be swamped by a 'life-threatening' storm surge, flooding subway tunnels and crippling electrical and communications lines, and New York Mayor Michael Bloomberg has ordered people in low-lying areas to evacuate.
"The time for preparing and talking is about over," Federal Emergency Management Administrator Craig Fugate warned. "People need to be acting now."
In New Jersey, Governor Christie ordered evacuations.
"The weather will turn ugly [on Monday] and we want everyone off the roads," he said.
"Don't be stupid. Get out. Don't try to be a hero and act as if nothing is going on here."
Early Monday, the storm turned north, around 400 miles from New York, with winds of 95mph. It is expected to make landfall around southern New England, but the storm is moving at just 15mph, which means it could linger on the East Coast for days.
Sandy could merge with a storm which is moving across from the west of the US, causing life-threatening flooding.
Bloomberg has ordered the evacuation of low-lying areas of New York, around 375,000 people, as well as the closure of all public transport saying the hurricane is a "serious and dangerous storm".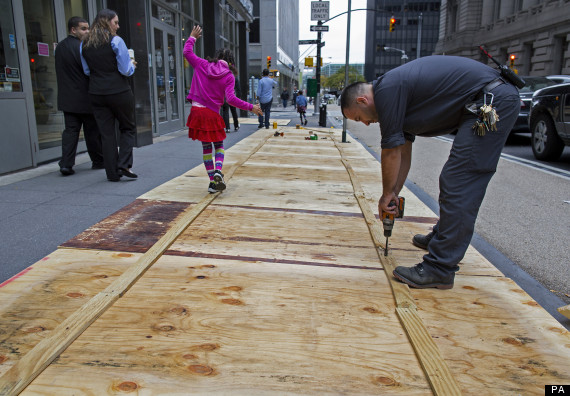 A maintenance worker named Vitto attaches plywood to a sidewalk grate at the 2 Broadway building of Lower Manhattan in New York
Bloomberg said in a press conference: "If you don't evacuate, you are not only endangering your life, you are also endangering the lives of the first responders who are going in to rescue you."
President Obama urged Americans "to take this very seriously and follow the instructions of your state and local officials, because they are going to be providing you with the best advice in terms of how to deal with this storm over the coming days" in a separate press conference.
Visiting Fema in Washington on Sunday, Obama vowed his government would "respond big and respond fast".
The New York Stock Exchange will be fully closed on Monday and may remain closed on Tuesday, its operator said.
Sandy has killed 60 people in the Caribbean over the past week.
"We were told to get the heck out. I was going to stay, but it's better to be safe than sorry," said Hugh Phillips, at a Red Cross shelter in Lewes, Delaware, to the Associated Press.
Mark Palazzolo, in Point Pleasant Beach, New Jersey told AP: "I got a call from a friend of mine from Florida last night who said, 'Mark, get out! If it's not the storm, it'll be the aftermath. People are going to be fighting in the streets over gasoline and food.'"
A three-masted tall ship was caught in the storm when it began taking on water and it's engine failed. The 17 crew were forced to abandon ship.
Officials also postponed Monday's reopening of the Statue of Liberty, which had been closed for a year for $30 million in renovations.
Shows such as 'The Lion King' and 'The Phantom of the Opera' on Broadway have also been affected as theatres close in preparation of Sandy.