Jo Hedwig Teeuwisse's hauntingly beautiful photos remind us of the soldiers and civilians who suffered during World War 2 on the very streets that we walk down every day.
Teeuwisse sources original photos from World War 2, and after researching where they were taken, takes a modern day equivalent from the exact spot the original was shot.
By layering the two on top of each other Teeuwisse creates the ghostly images that show World War 2 figures on the streets of today.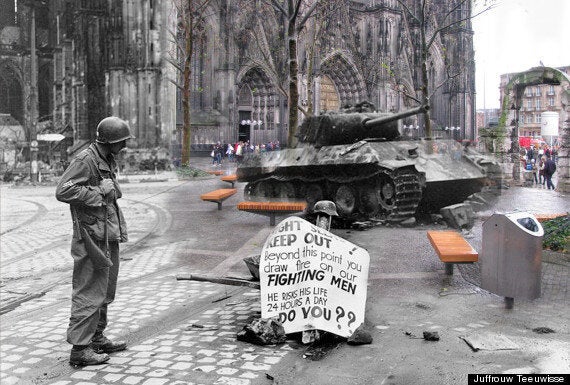 Teeuwisse also works as a historical consultant for film and television
Teeuwisse told the Huffington Post: "I have always been interested in history.
"The original war photos are usually very dramatic and it is tempting to leave it intact as much as possible, but sometimes you can make the emphasis bigger and the story more dramatic by only leaving a shadow of the original photo linger on the 'now' photo.
"I hope that my photos make people think about how history is part of our life and is everywhere around us, that the freedom we take for granted was fiercely fought over in the streets where we do our shopping, go to work or even on the steps leading to our homes."