Remember the world's largest bra?
It's been sold - for £120 per metre - to what's been dubbed one of the world's most eccentric companies.
The super-sized 30m bra (it's a whopping 1222B), was put on eBay 10 days ago in support of breast cancer charities.
Now for £3,600 it's been sold to Golden Palace, an online gambling company that also own a lock of Justin Bieber's hair (priced at £25,313), Britney Spear's pregnancy testing kit and, bizarrely, William Shatner's kidney stone.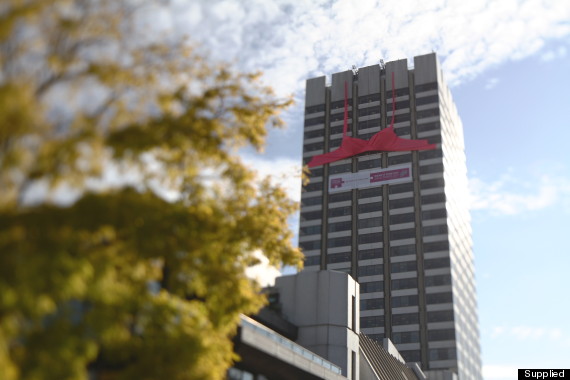 The world's largest bra suspended from the ITV Tower in London for wear it pink day last October
The fluorescent pink number, which is big enough to cover a building and just shy of the size of two tennis courts, will now fit in with their weird and wonderful collection of objects.
Arian Simpson, a Director at Chillisauce.co.uk said they were delighted that so much money had been raised for breast cancer care,
"The fact that it's going to a very interesting new home is a fantastic bonus for all of us who have been involved in the project for the last year."