This is the moment a woman launched a "horrifying" racist attack on a stranger in public - with her two children in tow.
The shocking footage of the assault by Amanda Lowe on Khuram Nisar on a summer evening in Manchester city centre was released today by the Crown Prosecution Service.
It shows Lowe returning to her children, aged eight and four months, looking "thrilled" with herself after the rant.
Lowe, 26, who is now pregnant with her third child, started the trouble by calling the victim a "f****** Paki" and "terrorist", Manchester Crown Court heard.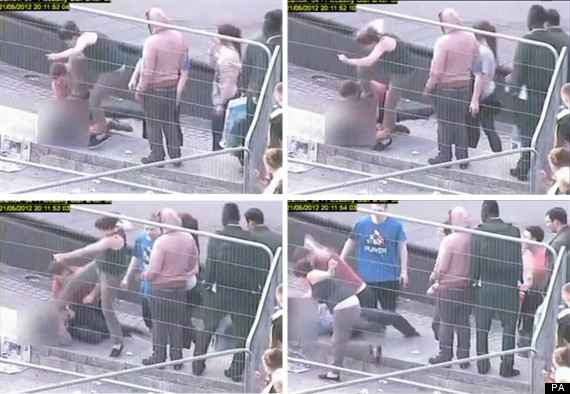 Nisar was going home from work when he was confronted by Lowe
Mr Nisar was going home from work across Piccadilly Gardens, which was crowded with families and children enjoying the evening sunshine, when Lowe, who was drinking alcohol with friends, began shouting the abuse.
Mr Nisar told Lowe's boyfriend, Wesley Earls, to "control his woman" but Earls responded by punching the victim to the ground.
Lowe's friend, Daniel Wray, also waded in, punching Mr Nisar in the head as the trio pounced.
Lowe was caught on CCTV repeatedly kicking at and stamping on Mr Nisar's head before the fight was broken up and all three returned to the children yards away, with the youngest in a pram.
Mr Nisar suffered cuts and bruises to his head and body.
All three defendants were arrested 20 minutes after the attack, which happened at 8.15pm on May 21 this year. They have 21 previous convictions between them, many for violence.
Lowe, of Rochdale Road, Blackley, Manchester, admitted a charge of racially aggravated assault occasioning bodily harm and the other two admitted a single charge of actual bodily harm.
All three walked free from court last Friday after being sentenced by Judge Lindsey Kushner QC.
Lowe was spared jail because of her children, the judge said, adding that it would be unfair to then jail Earls, whose offence was less serious because it was not racially aggravated.
Earls, of Old Market Street, Blackley, Manchester, and Lowe, of Rochdale Road, also Blackley, were both given a 12-month jail sentence, suspended for two years, and a two-year supervision order.
Wray, of Ludlow Avenue, Salford, who was "fleetingly" involved by punching Mr Nisar before retreating, was given the same sentence - though the court heard he had not complied with previous community orders.
Passing sentence, Judge Kushner said: "It is fantastic to have this CCTV footage.
"It is good to see the events as they happened because they are horrifying when you see them.
"I think all of you can think yourselves lucky.
"She (Lowe) was in that state in charge of two children. That in itself is a criminal offence - drunk in charge of a child.
"It is disgraceful. How irresponsible can you get?
"You could easily have been dealing with a care case here.
"Miss Lowe, I can't emphasise strongly enough: kids who have mothers who behave like you end up behaving like you.
"That damage starts from when they are tiny."
Judge Kushner told all three this was their last chance and if they offended again they would go to jail.
pix of the day 17th March