A 'cut out and keep' Halloween-style mask of Jimmy Savile has been published as a cartoon in the Times, sparking controversy on social networking sites.
Drawn by award-winning cartoonist Peter Brooks, Savile has warty green skin, is wearing his trademark circular pink glasses and is surrounded by tufts of peroxide hair.
The mask, which appears in the comment section of the newspaper, is edged with dotted lines and the caption "Your scary monster cut out halloween Jim mask!"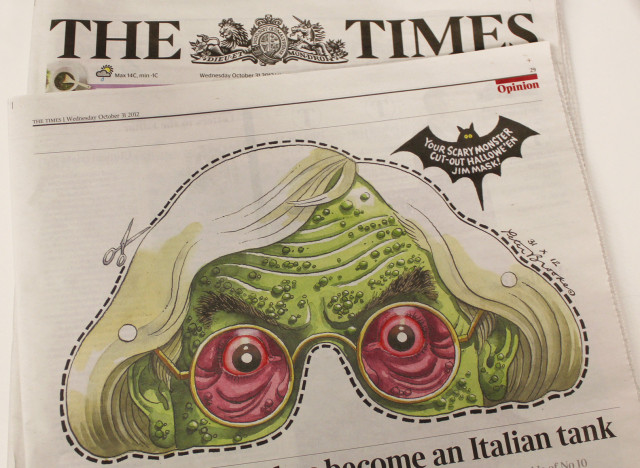 The cartoon-drawing of the mask is published on page 29 of today's Times
The Halloween mask has provoked controversy on Twitter with one user tweeting he was "shocked and horrified" the Times had published the cartoon.
Another tweeted: "I wonder if the Times will ever dare to print another piece suggesting the BBC didn't take Jimmy Savile abuse allegations seriously enough."
However there are thousands of Jimmy Savile costumes already available across the internet. The late TV presenter was a popular choice for fancy dress prior to the allegations of sexual abuse. Some clubs and events have tweeted they will not accept party-goers dressed in a Jimmy Savile costume.
Savile is the subject of a major police investigation with officers counting as many as 300 possible victims.
In just over a year since his death, the late TV presenter has gone from much-loved national treasure to being described by the NSPCC as the "one of the most prolific sex offenders" the charity has ever come across.
SEE ALSO: It's My Right to Laugh at Offensive Humour
Jimmy Savile jokes are considered by many to be in poor taste, with critics claiming they trivialise the suffering of those he abused. The issue is especially sensitive as some of his alleged victims claim the abuse was overlooked or even covered up by authorities.
Separately on Wednesday, Deputy Prime Minister Nick Clegg said "heads will need to roll" at the BBC if it is discovered that abuse was ignored.
"Serious questions need to be asked and if after we find out what's happened, it's clear that people have turned a blind eye or, worse still, connived with it, then of course they're going to have to be held to account and - if that turns out to be the case - heads will need to roll of course," he told ITV's The Agenda.
However some commentators have argued the press have been reductive and visceral in their handling of the revelations, questioning why no journalist investigated the rumours sooner, especially in the wake of the phone hacking scandal.