A disability campaigner who set up an e-petition to stop government benefit cuts has vowed to continue her fight, after gaining more than 62,000 signatures.
Pat Onions, who is blind and also a carer, said the government is treating disabled people as "worthless commodities" but that "doing nothing is not an option."
Her campaign became known as 'Pat's petition' and has been shared on Facebook, tweeted and posted on blogs thousands of times before it closed earlier on Thursday.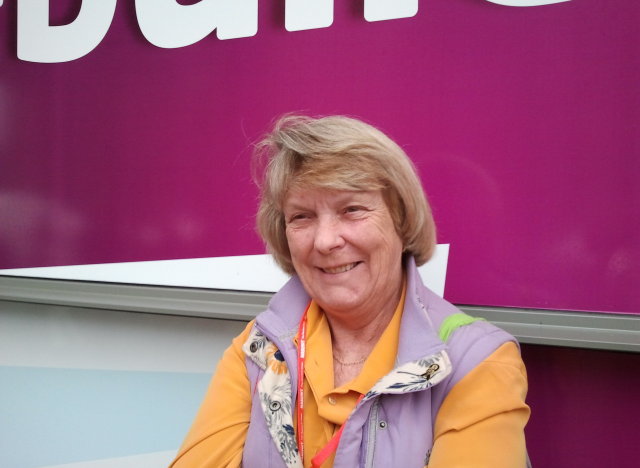 Pat Onions set up the petition with six other campaigners
E-petitions need 100,000 signatures for their cause to be considered for debate in parliament and though the petition has failed in this regard, it is not the end for the campaign.
The cause has struck a chord with an increasing number of people who feel the cuts are falling disproportionately on disabled people.
Mrs Onions says the team will build on the contacts made whilst campaigning to stand together in the fight against benefit cuts. There have been protests outside the Department of Work and Pensions over changes to disability benefits
Mrs Onions, who is blind and a carer herself, told the Huffington Post UK: "The petition shows the government the strength of feeling of disabled people, their carers and families. It shows them they can not just plough along making cuts to one group of people.
"3% of the population is bearing 25% of the cuts. It is horrendous when you just think about how little we have to start with. It's purely a cost cutting event. We seem to be dispensable."
More than two million people are currently being assessed as part of a government drive to encourage people off benefits and back to work.
Major changes are also being introduced to Disability Living Allowance and Incapacity Benefit. Anti-cuts and disability campaigners claim that inaccurate testing is forcing disabled people to live in poverty and in some cases driving them to take their own life.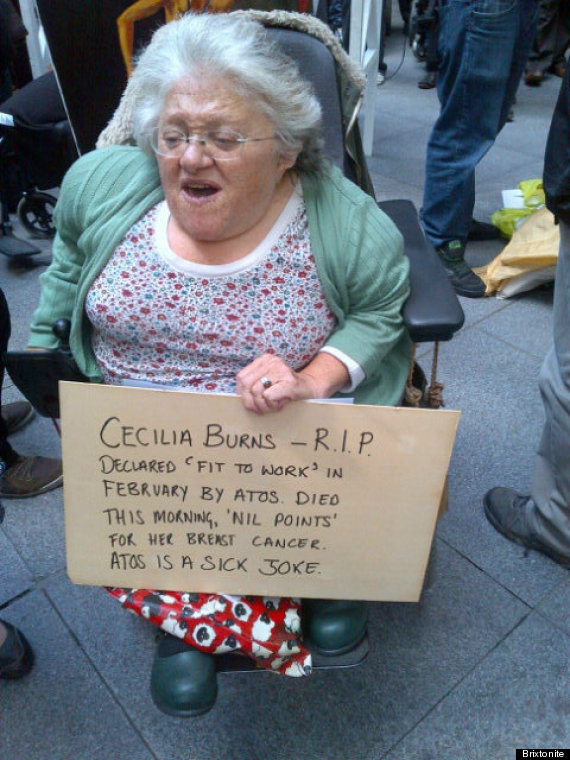 A protester carried a placard campaigning on behalf of Cecilia Burns who died after being judged 'fit for work' and having her benefits removed
A parliamentary committee report has already warned that changes to the benefits of disabled people may risk their right to independent living. As DLA changes to PIP and reassessment for millions looms ever closer, Mrs Onions highlighted the very real impact such cuts will have.
"It will mean people will lose the ability to pay for assisted technology to enable blind people to access a computer. Did you know that without such technology, blind people are illiterate? It is for them the ability to read and write.
"Many disabled people use their allowances to get themselves to work. Losing certain benefits would mean they would lose their car and become housebound.
"Disabled people stand to become isolated and lose their independence. Many live in remote rural villages without public transport. There will be an extra burden on families to look after their loved ones as there is no one else to help."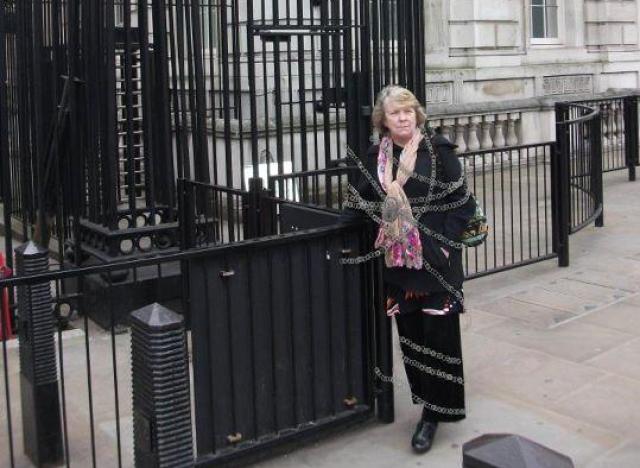 Pat Onions is a blind disability campaigner and a carer
Mrs Onions set up the petition with the help of six other people who either have a caring role or have a disability. They met online over their joint disgust over the government's programme of change.
She explained how difficult it was for the group to get the campaign off the ground amidst escalating rhetoric about 'benefit scroungers':
"With no funding or resources, no celebrity endorsement and (with few exceptions) no help from the charities, we have gone out and found every signature.
"It has been hard. Damned hard. We all have our own daily battles.
"This government has put out so much propaganda about how much we cost the 'hard working tax payer' that people believe them. How many times do you hear how much 'welfare' is costing the country?
"I think the words were that by the end of these welfare reforms - only the genuine disabled will be left standing. Or crawling, or immobile, or terminally ill. We are the scapegoats, disposable and worthless - according to the propaganda. And it is working."
Pat has a message for people who believe the rhetoric, saying: "Disabled people are not another breed. They are human beings like any one of you and despite what this government says - did not choose to be like they are.
"Many of us weren't born disabled. An accident or hereditary defect can change that in a flash. No one wants to think about being hit by a bus or contracting some life threatening disease. But it does happen all too often. Then what? You turn to the state welfare for support and wham. The safety net is no longer there.
"Pat's Petition has now become like a name, the people who have supported us know the real truth of what is happening to us and have been brilliant supporters. The Archbishop of Canterbury wrote a beautiful letter and a prayer for us. Thousands of not so ordinary people from all walks of life have supported us."
She issued a bleak warning to those who ignore their cause.
"Others believe that it won't happen to them. It will and it does."