The Iron Lady may have carved a harsh, even hateful reputation during her 11 years in power, but her former bodyguard paints a surprisingly touching portrait of the Thatcher household.
Barry Strevens protected the former Prime Minister for two decades and despite admitting his "heart sank" when he learned whom he was to work for, he quickly changed his tune.
He told The Sun: "Within weeks she had won me over with her kindness and charm. I grew to admire her political prowess to such an extent that I even ended up voting for her."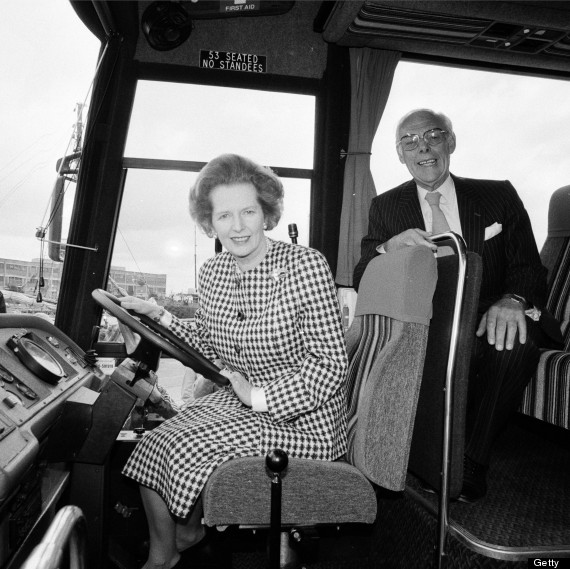 In the driving seat: Margaret Thatcher on her battle bus in 1987 - while Denis stands behind
In an exclusive serialisation of his memoirs he fondly recounts his status as one of Thatcher's "boys", and conspirationaly slipping husband Denis gin during alcohol-free functions.
At one point he recalls travelling to America with the duo and helping Denis dodge being caught with a Playboy magazine.
SEE ALSO:
Hiding his copy in the pages of House & Garden, Denis was caught off guard when Thatcher asked if he would swap magazines with her.
Strevens said: "Lady Thatcher finished her magazine and leaned over to take Denis's. He threw me a panicked look, so I quickly offered her mine instead, which saved him from a roasting."
The PM may have been branded a milk-stealing war-monger, but Strevens paints a picture of "motherly" figure who put up Christmas decorations, gave thoughtful gifts and even got on her hands and knees to clean up the dog mess a police sergeant unwittingly tracked into her home.
Denis died in 2003 at the age of 88.
His widow, who turned 87 last month and is suffering from dementia, often forgets her husband has died, their daughter Carole revealed in her 2008 memoirs.
She wrote in the Daily Mail: "Losing Dad, however, was truly awful for Mum, not least because her dementia meant she kept forgetting he was dead. I had to keep giving her the bad news over and over again.
"Every time it finally sank in that she had lost her husband of more than 50 years, she'd look at me sadly and say: 'Oh'."
Meryl Streep's portrayal of Thatcher in this year's The Iron Ladysees her having frequent conversations with her long-dead husband.