Manchester United manager Sir Alex Ferguson says he refuses to believe referee Mark Clattenburg used "inappropriate language" towards Chelsea's John Obi Mikel and is convinced he is innocent.
Clattenburg, who oversaw United's first Premier League win at Stamford Bridge since 2002, has been reported to the Football Association by Chelsea for allegedly calling Mikel a "monkey" during Sunday's turbulent encounter. Police are also probing the incident after the Society for Black Lawyers contacted them.
The 37-year-old County Durham official also sent off Branislav Ivanović and Fernando Torres as Chelsea lost for the first time in the league this season, and was highly criticised by Blues boss Roberto di Matteo.
But Ferguson has expressed his support for Clattenburg, who is also under investigation from police.
"In the modern climate I just refuse to believe it. I don't believe Mark would make any comments like that. It's unthinkable," the Scot said at his pre-match press conference. "There's no way a referee would stoop to that. I'm convinced of that.
"I know that the banter goes on between referees and players, but 25 years ago it was different to today.
"I have never had a player come to me, in the last 15 years, saying that a ref has sworn at him during a game. Ever."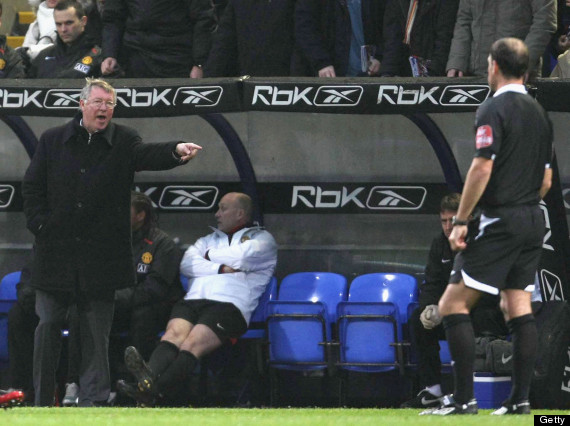 Ferguson vents his fury at Clattenburg away to Bolton in 2007
One of Ferguson's five touchline bans came as a consequence of him berating Clattenburg when United lost 1-0 away at Bolton in November 2007.
Ferguson was angry Clattenburg had failed to send off Kevin Davies for an apparent elbow on Patrice Evra and vented his anger at the official after the half-time whistle had been blown.
He was sent to the stands for the second 45 before the FA handed him a two-match touchline ban and a £10,000 fine.
The United manager is the third manager to express his support for Clattenburg, after Leeds United boss Neil Warnock and Arsenal's Arsène Wenger both criticised Chelsea for reporting him this week.