Chelsea manager Roberto di Matteo has said football needs to combat racism "a little bit stronger than we thought" after the club reported Mark Clattenburg for "inappropriate language" and are investigating a fan for making a monkey gesture.
The Blues have filed a dossier to the Football Association, with witness statements signed by players and staff, alleging referee Clattenburg called midfielder John Obi Mikel a "monkey" during their 3-2 Premier League loss to Manchester United.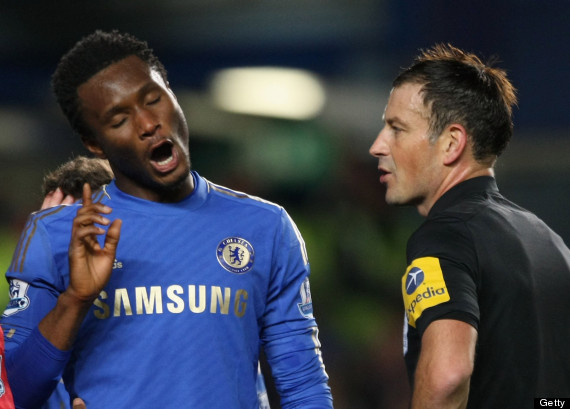 Clattenburg is alleged to have called Mikel a 'monkey'
And on Wednesday night a Chelsea fan, since identified as Gavin Kirkham, stands accused of making a monkey taunt towards United's black player Danny Welbeck when the Champions League winners took on United in the Capital One Cup.
"We are against any form of discrimination. We will support anybody who is fighting that," Di Matteo vowed at his Friday press conference.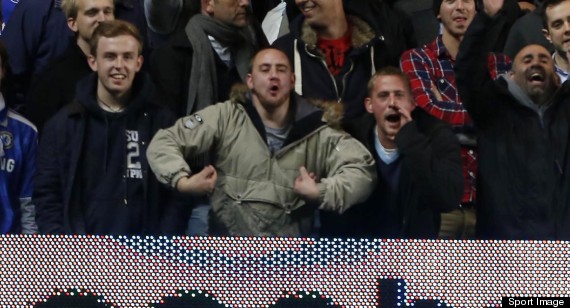 Gavin Kirkham is accused of making a sick monkey gesture
"Racism appears to be a problem in society and we need to fight it a little bit stronger than we thought."
In response to Sir Alex Ferguson condemning Chelsea for publicly claiming Clattenburg aired a racial slur, Di Matteo replied: "Ferguson likes to talk about other clubs, we tend not to.
"It's a free country where everybody has the freedom of speech. We'll take into consideration what other people say and use it as a motivational tool for ourselves."
Chelsea have already been criticised for not punishing John Terry more severely after he was found guilty of racially insulting Anton Ferdinand.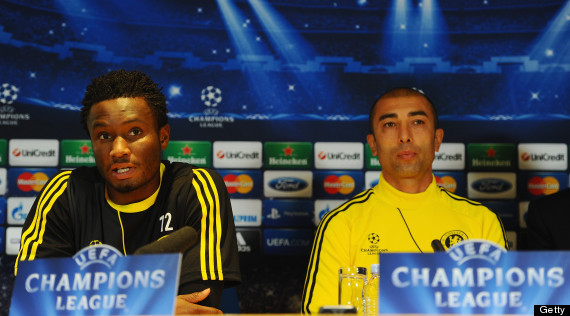 Mikel is regarded as a first-teamer by Di Matteo
Terry was banned for four matches and fined £220,000 by the FA but Chelsea's "confidential" discipline is believed to amount to docking their captain two weeks' wages. The PFA must be contacted if a club wants to impose a heavier fine and Chelsea did no such thing.
Ashley Cole's evidence given during the independent regulatory commission's probe was also contradicted after it was altered by club secretary David Barnard. Cole responded by labelling the FA a "bunch of twa*s" on Twitter.
Mikel meanwhile, who started the midweek clash but was substituted at hal-time, is "focused", Di Matteo said.
"His frame of mind is good. He is focused on the training and the playing."