Two more people have been arrested as a steady stream of protesters descends chimneys at one of the UK's new gas-fired power stations.
Nottinghamshire Police said two men were arrested on suspicion of aggravated trespass this morning after they climbed down from a tower at West Burton power station in Nottinghamshire.
Police have now arrested a total of 17 people in connection with the protest. They have been bailed pending further inquiries.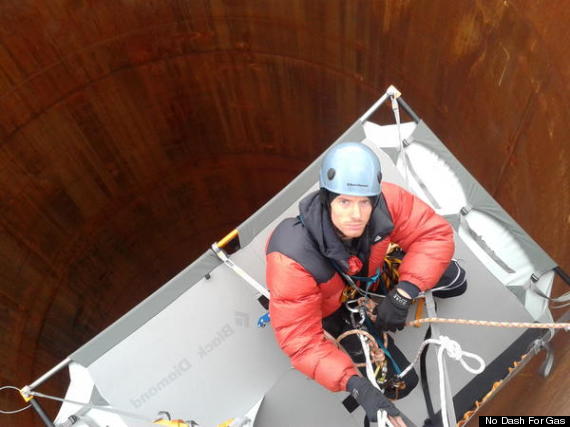 Protesters at West Burton power station, inside the chimney
A force spokeswoman said it is believed four people remain on site, where they have been since the early hours of Monday.
The "No Dash For Gas" campaigners have been protesting at the site since making their way into the plant in the early hours of Monday morning.
More than 20 campaigners entered the site, with 16 climbing and securing themselves to two chimneys.
The campaigners said they are protesting against moves to build new gas-fired power stations such as West Burton, warning it would leave the UK dependent on a polluting and increasingly expensive fossil fuel for decades.
The Government has backed the development of up to 20 gas-fired power stations as part of its strategy for future energy supplies.
Ministers insist that continuing use of gas without technology to trap and permanently store carbon emissions is compatible with targets to cut greenhouse gases to tackle climate change.