Large parts of southern and eastern England were drenched by torrential rain today.
The Met Office issued a weather warning for heavy rain, gusts of over 50mph and minor flooding.
Julian Mayes, a forecaster with MeteoGroup, the weather division of the Press Association, said: "The whole of southern England has had a very wet night.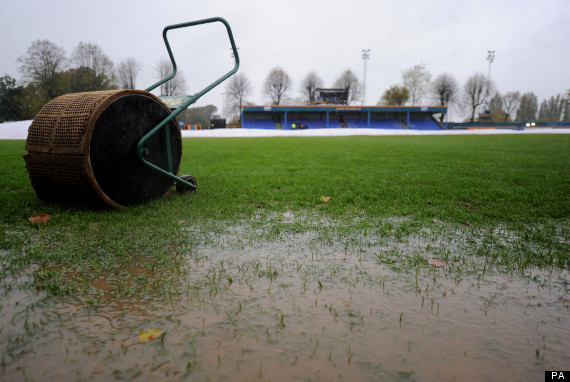 The match between Braintree Town's and Tranmere Rovers' at Cressing Road was abandoned due to water logged pitch
"Plymouth had the most rain with 21mm falling between 6pm yesterday and 6am today but many places in the southern half of England had similar amounts.
"We also had some wet snow in parts of the south and the West Country." A shower of snow covers trees in Bath, Somerset, this morning, as the odds of a white Christmas have been cut following the overnight snowfall
More rain was expected tonight, but it will become showery as dry, colder weather from the north starts southwards, forecasters predicted.
The Met Office warned: "Heavy rain is expected to spread across parts of southern, central and eastern England through Sunday morning, clearing eastern parts by early afternoon.
"The rain will be accompanied by strong winds in parts of south-east England, possibly gusting in excess of 50mph.
"The public should be aware that the rain, falling on already wet ground, may lead to some minor flooding from either surface water or rivers."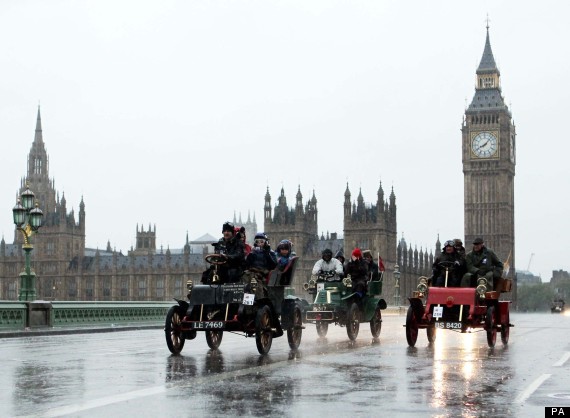 The Brighton to London Veteran Car Run went ahead despite the weather
The London to Brighton Veteran Car Run overcame the conditions as over 500 pre-1905 vehicles made their way from the capital to the south coast.
Helen Holness, a spokeswoman for the event, said: "Everyone is in good spirits and all the cars took off from the start line in Hyde Park.
"We've had some big puddles on the route but the cars have gone round them and everyone is still running."
But FA Cup matches at non-league Braintree Town, Essex and Gloucester City were postponed due to waterlogged pitches.
Braintree were due to play in a televised game against League One leaders Tranmere Rovers, whose supporters' coaches began the journey from Merseyside at 5.30am.
Tranmere fan Glyn Lancefield, 30, from Ellesmere Port, Cheshire, said they were frustrated that the game was called off just one hour before kick off, when they had already completed the five-hour journey.
"Some people are really annoyed," he said. "I woke up at 4.30am so it's been a really long day.
"I wish they would have made the decision earlier so we could have turned back on the motorway. Everyone is tired and now we've got another long journey home without seeing any football."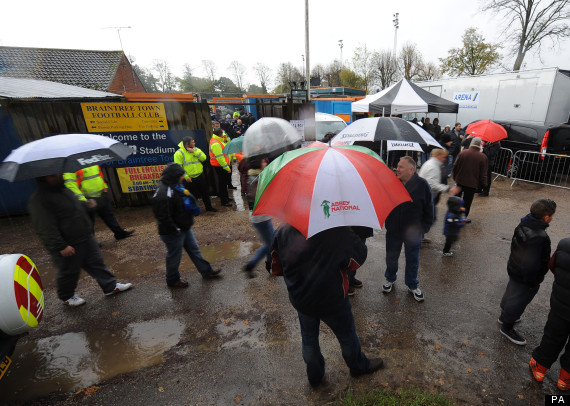 Spectators leaving Cressing Road after the abandonment of the game
Meanwhile forecasters are advising people to wrap up warm if they are going to a Bonfire Night fireworks display tomorrow.
Mr Mayes said: "Maximum temperatures tomorrow will be between 6-9C (43-48F) nationwide, which is a few degrees below average for November.
"We're looking at around 4-5C (39-41F) across much of the country by mid-evening so it will feel quite chilly."
And the odds of a white Christmas have been cut following the overnight snowfall.
Ladbrokes have slashed the odds of snow on Christmas Day to 7/2 in London, 7/2 in Manchester and 4/1 in Cardiff.
Edinburgh is the 3/1 favourite to have snow on December 25.