Students and an NUS officer have condemned an article written by a student journalist titled 'The Week I Became A Lesbian' as "disgusting" and offensive, telling the writer "gay bars are not zoos".
Student journalist Ellie Clarke, an undergraduate at Leeds University, narrated her journey to "get over the prejudice and get under some girls", which was published on the Leeds Tab website.
The Tab has defended Clarke's freedom of speech, saying the article was not written with intent to offend and the paper would not be apologising.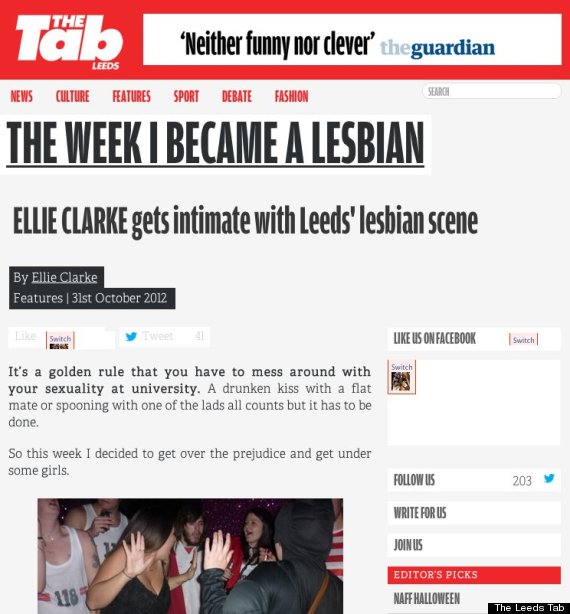 The piece 'The Week I Became A Lesbian' as it appeared on the Leeds Tab website
In her controversial article, Clarke writes: "It's a golden rule that you have to mess around with your sexuality at university.
"Apparently though this was 'A sensitive subject for our society be involved in press articles' I thought the society would want to bat for our team.
"I seriously got into the role of it all, rubbing up against anyone who would have me – I quite fancied this girl actually and put on my moves asking for a kiss… until a much larger not so attractive grenade came up to me and told me they were engaged. Awkward."
She continues: "The girl dressed in a full batman suit was getting my bedroom eyes but I ended up settling for this girl at the 2 o clock drop."
One student reported the article had originally included a picture of the girl Clarke "settled for" but it had since been removed.
Clarke tweeted the article saying there was "one for the w**k bank here boys!" although she appears to have since deleted the message:
In the article, Clarke concludes: "The haircuts are a way of securing who they are.
"Could I switch guys for girls? Yeah potentially, I woke up the next morning and I'd already got a couple of texts from some girls I was chirpsing and that never happens."
Comments under the article, which now number more than 80, reveal the angry reaction from Leeds' student community.
One comment reads:
"This article absolutely disgusts me. It's full of assumptions and stereotypes and suggests lesbianism is some sort of fashionable phase you can choose to go through just to "have fun" as part of the "uni experience". You should feel ashamed of yourself for writing this and taking advantage of the LGBT community for your sick game."
Another, from a student named Rachel, says: "The gay scene is not there to give you a self confidence boost after some guy didn't text you back."
A commenter using the name "leeds lesbian" voiced her anger at the article, deeming it "pretty offensive".
"We're not an experiment for you or a project.
"LGBT people feel they cannot simply 'switch' our sexuality, it's not 'messing around'.. this is our identity, we love people of the same gender and its not a big joke to us.
"Please don't reduce lesbians to our haircuts... we are real people behind the 'stereotypes'."
The National Union of Students' LGBT officer Finn McGoldrick tweeted:
Jo Hamlyn, chair of the Leeds University Union LGBT society, says she and the society were approached by the Tab but were not told of the intentions of the article.
"I believe it is extremely foolish to nonchalantly imply that homosexuality is a choice 'switch from guys to girls'. It is demeaning to those who have struggled with their personal identity, to those who have fought (and are currently fighting) for equal rights and to the quality of love between gay couples."
Hamlyn says she found the article "offensive and inaccurate" and reinforced gay stereotypes, while showing "complete ignorance" to the trans community.
"Maybe if the content of the article had been gathered while she was not 'absolutely bladdered', a more interesting, thoughtful and inquisitive piece of journalism could have been achieved," Hamlyn continues.
The reaction on Twitter was equally angry at the article's content:
One Leeds student described the article as "just....bad", while one even went so far as to say "Wow this article might just ruin a student journo's future career. Oh dear. What a mess."
As the Tab is not affiliated with either the student union or the university, neither have any power to dictate what the site publishes.
Jack Rivlin, founder of The Tab, which has student papers at several universities in the UK, told the Huffington Post UK he stood by Clarke and the right to free speech.
"The article was not written with any intention to offend, and I don't believe for a second that it was intended to present being a lesbian as a lifestyle choice or a game," he said. "I can understand readers being offended by a light-hearted tone about something which is very important to their life. However, there is no monopoly on writing about sexuality, and every journalist is entirely within their rights to write about it.
"We stand by the author, and we will not be making a public apology. It would be entirely wrong for any newspaper to apologise for writing about an issue just because it offends. If we do not allow writers to explore these kind of issues - which are of course incredibly tricky - then we allow the kind of orthodoxy and separation which encourages prejudice.
"Any reasonable person would recognize that behind unfair stereotypes are genuine trends and cultures which are worth exploring. It's cowardly to ignore them just because it might upset people."
Clarke, the university and the student union have been contacted for comment but have yet to respond.