Meet Whipsnade Zoo's awww-some new arrival – a baby giraffe who's just one month old and already standing tall at almost six feet.
At the moment baby boy - born to proud first-time parents Ljuma and Uno at 7am on 30 September – has no name, but the zoo's staff are hoping the public will vote for one.
The choices are listed at www.zsl.org/nameagiraffe and voting closes on 16 November.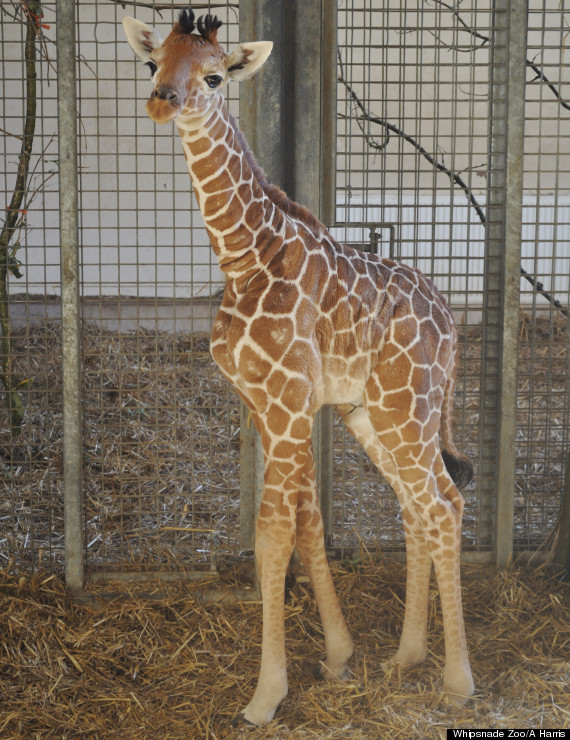 Newbie: The baby giraffe is currently six-foot tall
Keeper, Louise Jakobsen, said: "The new arrival is already showing dad's calmness and mum's inquisitive nature. He's very confident on his long legs now - after starting off mirroring the actions of his keepers, he soon began galloping around the paddock. Although he will suckle for around a year, he's begun nibbling on leaves which we've put at his height so he can easily tug on them."
Whipsnade's new calf is extra special because when 10-year-old Uno - which means number one - arrived at Whipsnade last year as the Zoo's breeding male, he was slightly smaller and less muscular than the average male.
But what he lacked in stature, he made up for in spirit and soon learned to "walk tall" to gain the attention of the females in the paddock.
Louise added: "It's Uno's first baby and he has been very curious about the new arrival, showing a lot of interest in him. We keep spotting him peering over to get a better look.
"Ijuma is also doing a brilliant job as a first-time mum. She's been showing excellent maternal instincts towards her baby and is gaining in confidence all the time."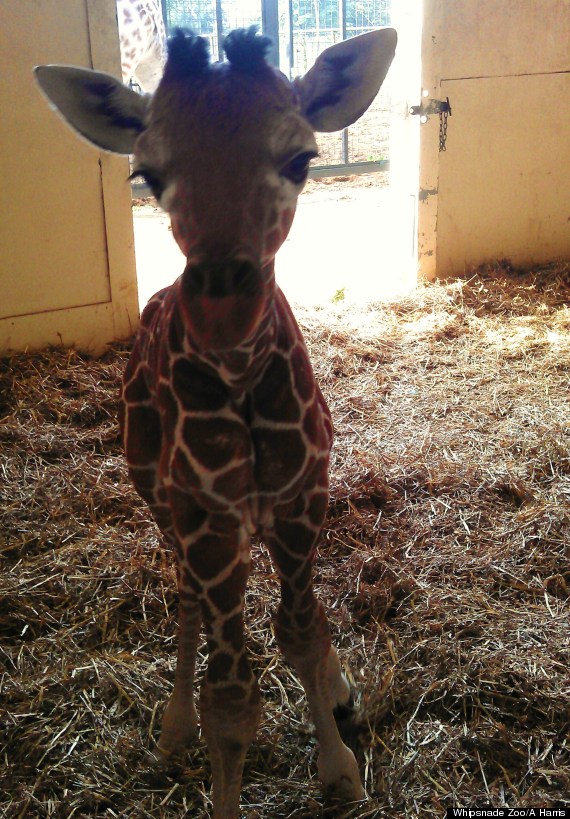 The baby giraffe was born on 30 September and has an inquisitive nature
The giraffe is the tallest animal in the world. Males reach a towering 19 feet tall and weigh between 2400 and 4250 pounds. Females measure up to 17 feet tall and weigh between 1540 and 2600 pounds.
Giraffes have the same number of bones in the neck as humans – seven. Valves in neck prevent blood rushing to the head when they bend down to drink.
The leggy animals are found in north-eastern Kenya, eastern Sudan and Eritrea.