Was it a bird? Was it a plane? No, it was a dramatic aerial stunt to mark the launch of one of the year's most anticipated video games.
Halo 4 sees the return of the universe-saving Master Chief in one of the most successful video franchises ever, with 46 million units sold so far and more than five billion hours of gameplay logged on Xbox Live.
When Microsoft's Halo first hit the shelves it was hailed by many critics as a reason in itself to buy an Xbox.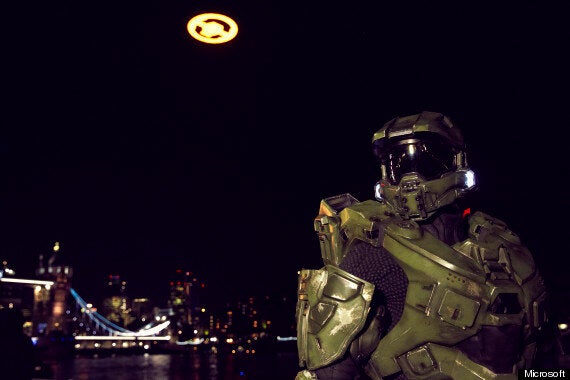 Bright idea: A 'UFO' was flown over London to mark the launch of Halo 4
Impressively, each instalment has maintained the same high standard and Halo 4 is certain to be one of the year's most successful shooters, though it's doubtful it'll topple the imminent Call of Duty: Black Ops 2 from the 2012 box office throne.
The object seen last night was the Halo 4 "Glyph" symbol – one of the largest and brightest man-made structures ever to fly over a capital city, according to Microsoft.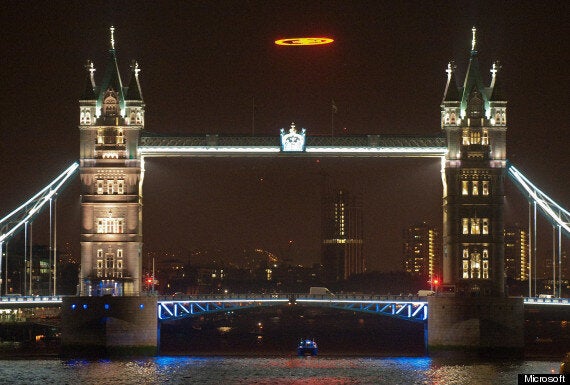 The giant glyph was flown by helicopter over some of London's landmarks
It measured 50 feet in diameter and weighted over three tonnes.
The object – hanging under a helicopter - wowed 500 VIP "super-fans" and anyone else who cared to look up as it flew over the River Thames from Greenwich Peninsula to Tower Bridge.
"'Halo" launches are renowned for being entertainment game-changers and we are back with our most ambitious projects to date," said Chris Lewis, Vice President, Interactive Entertainment Business, Microsoft EMEA.
"Last week we created a replica of the "Halo" universe within the heart of Europe. This week we have one of the worlds' largest and brightest performance art objects being flown over London."
"The Glyph flyover makes the seemingly impossible world of science fiction a reality, a 50 foot symbol of the Didact hovering in the skies of a major capital city, seems a fitting way to herald the next chapter of this phenomenal blockbuster franchise."
Additionally around the world, midnight openings took place in 40 countries at more than 10,000 stores – more than 350 locations across the breadth of the UK alone, including the flagship event at GAME Westfield Stratford – as 350 fans lined up to count down to the game's release.
At marquee launches in London, Seattle, Paris, Berlin, Tokyo, Singapore, Hong Kong, Dubai, Sydney and other major cities, throngs of fans, celebrities and more flocked to be among the first to play Halo 4, meet the creators of the game and take photos with the Master Chief.
Related