In August Google promised media organisations that it would take significant steps to downgrade the rankings of pirate sites – but it has been accused of acting too slowly.
Pressure mounted on Google last year when the then culture secretary Jeremy Hunt warned the search giant that it was a case of being proactive on the issue, or facing new laws that would force action.
This summer Google promised that its algorithms would be altered to demote sites that allow copyrighted content to be shared.
However, Geoff Taylor, chief executive of the British Phonographic Industry told The Guardian: "Google said it would stop putting the worst pirate sites at the top of search results.
"Google's transparency report shows they know clearly which are most infringing domains. Yet three months into the much-vaunted algorithm change, many of these illegal sites are still dominating search results for music downloads."
It would appear that Mr Taylor does have a point.
The respected tech site TorrentFreak ran a test in August to see if the new policy was having any effect and found that pirate sites such as Kickass Torrents and isoHunt no longer ranked highly when searching for the film The Dictator.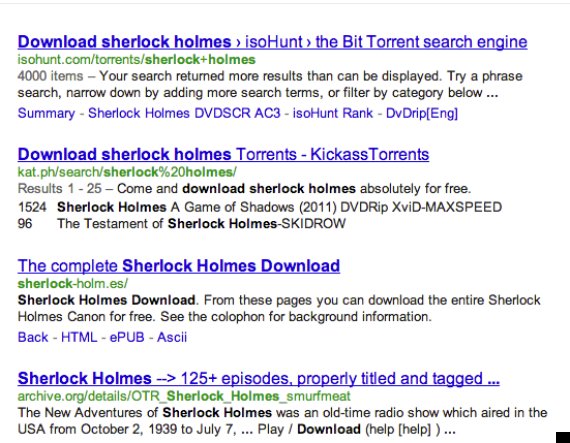 Huff Post UK searched for "Sherlock Holmes download" and pirate sites ranked top
But now they do. Search for "The Dictator download" or "Sherlock Holmes download" and both pirate sites appear at the top of the first page.
Similarly, pirate sites also rank highly when searching for "Katy Perry download", as The Guardian points out.
Whatever the reason for this, the Department for Culture, Media and Sport is monitoring the situation closely.
A DCMS spokesperson said: "DCMS has been central to the round-table discussions about the online infringement of copyright. We have worked closely with search engines, ISP's and rights holders on possible industry-led solutions and welcomed Google's announcement that it was changing its search algorithm to take account of the number of take-down notices attached to a site.
"We will of course want to continue working with Google as part of a broad on-going discussion with the content industries, ISPs and others about measures to reduce online piracy."
Google said in a statement to the Guardian: "We continue to work closely with the industry to protect rights holders and their material. Sites with high numbers of removal notices are now more likely to appear lower in our results, we've made it easier to report pirated material and now take down more than seven million infringing links per month."
Media expert Robert Levine, author of Free Ride, takes a dim view of Google's antics.
He said: "It's not every day the major labels have to deal with a company that's way less trustworthy than they are - Google qualifies."