Claude Bosi, the double-Michelin starred French chef, has worked in some of the world's toughest kitchens and runs one of the UK's top restaurants, Hibiscus in Mayfair.
You'd think he could deal with mild criticism from an amateur food blogger.
But after James Isherwood, author of blog 'Dining With James' gave him an unthinkably average review for dinner at Hibiscus, and posted his blog on Trip Advisor, he was about to find out hell hath no fury like chef scorned. Claude Bosi, chef and founder of Hibiscus
Isherwood's blog is not a professional outfit, an average punter chatting about his dinner. And he didn't like his starter: " Rose hip and crab apple sorbet, fresh walnuts.
"The crab came wrapped in breadcrumbs but they were so over cooked, it was just like a crab flavoured Findus crispy pancake, with the smallest dollop of puree, its role on the plate was irrelevant."
But things got better, with veal cheek and mash described as "succulent, tender" and chestnut parfait had "flavours that worked well."
Bosi was infuriated, seeking Isherwood out on Twitter, and demanding to know why he had not complained to his face at the restaurant - and eventually calling him a c**t.
And other chefs chimed in to support - in now deleted tweets - Sat Bains and Tom Kerridge also called Isherwood a "c**t", and even Guardian reviewer Jay Rayner lent his sympathy to Bosi.
Isherwood, angry with the reaction, temporarily deleted his Twitter account, posting he was tired of the social networking site and the grief.
Chef and Guardian food blogger Luke Mackay, wrote in his blog that although Isherwood is a "very average writer of a very average blog.. on the lookout for crumbs from their mighty tables," he was deeply ashamed at the reaction to his review.
He wrote: "I am shaking with anger writing this. If you were one of the group of people who laid into James Isherwood, from the safety of your laptop last night or this morning you should put your hand up right now and say sorry. Except you can't. Because he's gone.
"All of you made me ashamed to be a chef last night, you made be ashamed to be on twitter and you have done nothing but bad for our industry.
"Yes we know a restaurant lives or dies by its reviews, yes we know that Trip Advisor is unedited and sometimes destructive. But calling a paying customer a "cunt" on a public forum for not liking his starter? That's going to kill you before any pee-wee blogger.
"If you demand the "respect" of your customers you are a self-important idiot who has positioned the art of cooking up there with fighting in the trenches or treating the sick.
"It's not. It's cooking. I do it, you do it, and my 90-year-old nan does it. It's just cooking."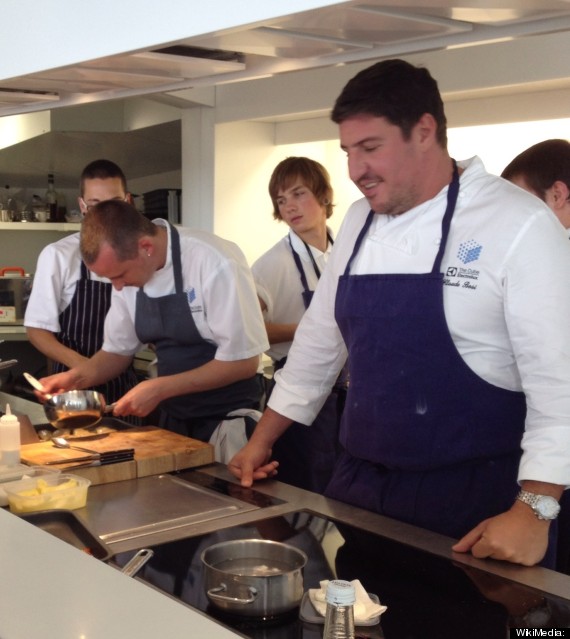 Claude Bosi at the pop-up restaurant 'The Cube'
In an open statement to Isherwood, Bosi said: "James we had good Twitter history. You came here as a food enthusiast with your guest after you and I communicated many times.
"That evening at Hibiscus in my kitchen we had a chat about the food and how well your evening had gone and how much you enjoyed it.
"You then wrote the opposite to our conversation, but not just on your blog, you posted it on TripAdvisor to make sure you did the most damage possible to my business.
"I have NO problem or issue with criticism. I have NO issue with anyone expressing opinion. I DO have an issue with dishonesty.
"You knew what you were doing and it was deliberate right from the word go. I now feel that you knew what actions you were going to take before you even set foot over the door. Of that I am now aware.
"I was angry and tweeted to that effect as you had made this with the inclusion of TripAdvisor a personal attack - however I did not ask or encourage anyone else to get involved and am not responsible for anyone else's actions. My opinions are my own and I stand alone making them."
Isherwood has returned to Twitter and vowed to keep reviewing, accusing the chefs and professional reviewers of double-standards.